The Dallas Mavericks and Miami Heat will reportedly have a rematch of the 2011 NBA Finals on Christmas. Posted by Ben Golliver.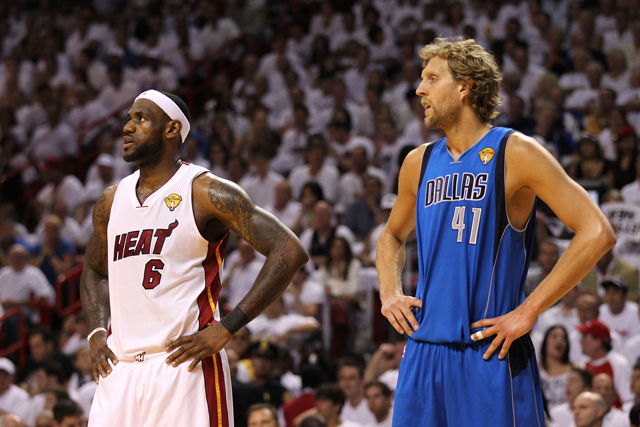 Assuming NBA commissioner David Stern doesn't turn into the Grinch who stole Christmas, the NBA reportedly has firmed up at least one match-up for its annual winter showcase.
The Miami Herald reports
that there will be a rematch of the 2011 NBA Finals on Christmas Day.
According to a league official, one of the two Heat-Mavericks games is being planned for Christmas in Dallas, likely at 2:30 p.m. The schedule will be announced shortly, though labor problems could shorten the season.
Scheduling a rematch of one of the most-watched and enjoyed NBA Finals in recent memory on Christmas is a no-brainer. It's a great reward for the winner to play host during one of the league's most-watched days of hoops.
Last year's slate of five games looked like this.
Without a doubt, seven of those 10 teams (including the Heat) need to play on Christmas again in 2011 from a marketing standpoint. You can pencil in the Bulls (Eastern Conference Finals,
Derrick Rose
), Knicks (
Amar'e Stoudemire
,
Carmelo Anthony
, Madison Square Garden), Lakers (
Kobe Bryant
, Staples Center), Thunder (Western Conference Finals,
Kevin Durant
,
Russell Westbrook
), Magic (
Dwight Howard
) and Celtics (The Big 3).
If you add the Mavericks into the mix, that leaves only two open spots. One of those two spots surely needs to go to
Blake Griffin
and the Los Angeles
Clippers
. History has dictated that the late game takes place in the Pacific time zone, meaning the Clippers could play either the Trail Blazers, Warriors or Sacramento
Kings
. Given their uptempo style and new coach Mark Jackson, something makes me think the Warriors will get the nod.
Here's how I would lay out the Christmas Day schedule:
Orlando Magic at New York Knicks: League's best big man, with free aency rumors swirling, showcased in the NBA's biggest market and facing two All-Stars that recently made it home.
Boston Celtics at Chicago Bulls: Balanced Eastern Conference powers who both excel on defense and have a playoff history to boot.
Miami Heat at Dallas Mavericks: The rematch.
Oklahoma City Thunder at Los Angeles Lakers: An obvious new guard vs. old guard match-up in the Western Conference.
Los Angeles Clippers at Golden State Warriors: Mama, there goes that Blake Griffin highlight package.
All of this, of course, is dependent upon a labor agreement being reached without a prolonged work stoppage.