Jimmer Fredette reportedly impressed during a workout with the Indiana Pacers. Posted by Ben Golliver.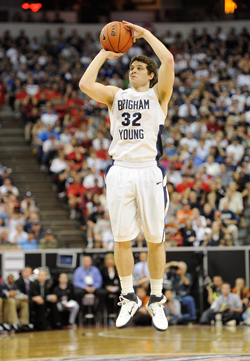 Conventional wisdom seemed to coalesce around BYU guard Jimmer Fredette this spring: He should be a solid rotation player and a potential spark plug off of someone's bench.
Is that line of thinking getting turned upside down?
On Tuesday, Fredette reportedly impressed during a group workout with the Indiana Pacers. So much so, in fact, that
Jazz
.com reports that he left talent evaluators with stars in their eyes.
One high placed NBA executive at the workout said, "He was Jimmer Fredette. He shot the ball well, he handled the point and he played at different speeds. He needs to get better defensively. He is a tough kid, he is mature, he is very poised."


The most interesting comment that was made was the "he could be a solid back-up or he could be a star." This is only the second personnel person I have talked to that had Jimmer as a star. One other compared him to Mark Price and is adamant about it.
The report also noted two fairly impressive facts: "Jimmer hit his first 12 3s and 82% of his unguarded 3s in his workout."
That performance left Fredette's workout partner, Duke guard Nolan Smith, impressed,
according to Pacers.com
.
"Where he shot the ball from, what he did for his team, I enjoyed watching him, seeing how many points he was putting up," said Duke's Nolan Smith, who matched up with Fredette in the workout. "It was quite a show."
Coming out of the workout, Fredette sounded confident, telling Indianapolis' 1070 The Fan that he "definitely" feels that his athleticism is underrated (
via SportsRadioInterviews.com
).
"I think athletic ability has to do with how you're able to move your body. … It's not the most flashy athleticism, but it's being able to make the most use out of your body."
While Fredette is listed anywhere from 10 to 20 on most NBA mock drafts, positive early buzz like this could mean that the bottom side of those estimates are overly conservative. He's got two good shots to be drafted with the Jazz picking at No. 12 and the Pacers picking at No. 15. The Phoenix
Suns
at No. 13 and the Milwaukee
Bucks
at No. 10 reportedly have interest too. Does he slip through all four of those teams?