Posted by Royce Young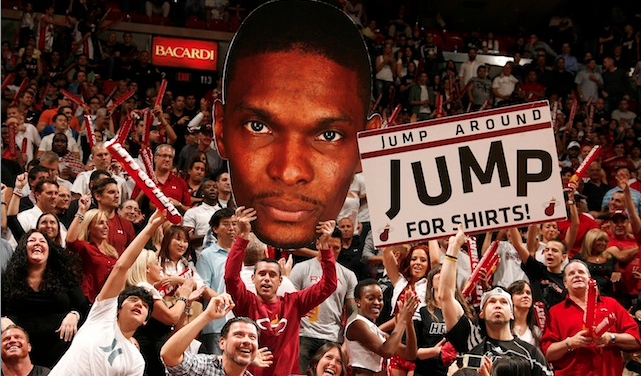 Chris Bosh scored 35 for the Heat Tuesday, including 17 in the fourth.
(Getty Images)
Your nightly report card gives you a big picture look at what happened each night in the NBA. Grades are granted based on team or individual performances, and are graded on a curve for each element. Leave your own grades in the comments.


Chris Bosh

Bosh did the heavy lifting for the Heat against Cleveland scoring 35 points, including 17 in the fourth quarter. He did it on 10-16 shooting and 14-14 from the free throw line. It was a nice game to see from Bosh who picked his spots wisely, took open shots when he had them and didn't waver throughout the game in his aggressiveness. That's been the problem with Bosh, is him fading out after a good half or quarter. But he stayed with it against the Cavs, putting together a very complete game.
Orlando Magic

A night after completely embarrassing themselves by shooting 24 percent and scoring only 56 points in Boston, the Magic bounced back by whipping the
Pacers
by shooting 46 percent from the field and hitting 13 3-pointers. So it really was just an off night against the
Celtics
.
Ryan Anderson
led the way hitting 5-7 from deep.
Marcus Camby

Camby led the way to a nice Blazer win over the
Grizzlies
pulling in 22 rebounds while also holding
Marc Gasol
to only seven points on 2-7 shooting. It was one of those classic Camby games where his box score is almost entirely out of whack. The 22 rebounds but only two shots, three points and then five blocks to go with it. Every now and then we all tend to forget that Camby is still one of the best defensive and rebounding big men in basketball. Marc Gasol won't forget that for a while.
Carmelo Anthony

OK, that's sort of a sarcastic grade. Carmelo had said recently he needed to re-evaluate his shot selection and he did that in a big way against the
Bobcats
. Melo went 0-7 from floor and scored only a single point in 30 minutes in the
Knicks
111-78 blowout of the Bobcats. The Knicks got balanced scoring across the board with 20 from
Tyson Chandler
, 18 from
Landry Fields
, 18 from
Amar'e Stoudemire
and 51 points from the bench. The Knicks aren't a better team getting that little from Melo, but it certainly worked fine for a night.
Toronto Raptors

The losing streak is over! After eight consecutive losses, the Raptors finally got on the high side with a win in Phoenix.
Andrea Bargnani
had 36 and
James Johnson
18. But here's the sobering reality: Toronto is still just 5-13 and are not very good.
LeBron James

LeBron's team won, but he played one of his most mediocre games of the year. He went 8-21 from the floor, turned the ball over five times, made only a single basket in the fourth and only had five assists. He wasn't great. He didn't really need to be because the Heat were playing an overmatched Cavs squad. It's not like LeBron to not be the best player on the floor during a game, but that was the case Tuesday.
Indiana Pacers

The Pacers are a bit hard to figure. Granted, they were getting a pretty angry Orlando team, but getting worked against another Eastern contender doesn't speak well for a team that's trying to be taken seriously. The Pacers sometimes can look crisp and clean offensively and other nights completely at a loss for consistent scoring.