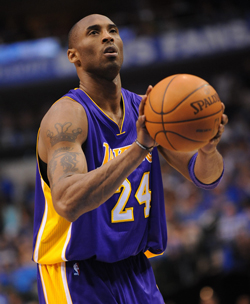 Kobe Bryant says he and Jim Buss should meet; Magic Johnson agrees
(Getty Images)
By Matt Moore
Just days after
Kobe Bryant
challenged the
Lakers
'
front office to make a desision
regarding
Pau Gasol
and
Ken Berger of CBSports.com filed a scathing and revealing report
on the inner dysfunction of the team's front office, Bryant told reporters that he and Jim Buss should meet for a conversation. And he wasn't the only Laker great to suggest the idea.
On a conference call Wednesday, Magic Johnson told reporters that Lakers GM Mitch Kupchak is "not running the team" anymore and that Jim Buss is making all the decisions. Johnson, who is as close to the Lakers organization as anyone, considering he has a statue outside their building, said that the answer was for Bryant and Buss to sit down and have a conversation. From the
L.A. Daily News
:
"(Bryant) just wants to be informed as a team leader and a future Hall of Famer and a guy who has brought five chapmionships to the Lakers," Johnson said. "He wants more communication, probably like he did when Phil Jackson was here and he worked well with Mitch. I don't think Kobe feels he has that type of relationship with Jim.

"What probably has to happen is they need to sit Kobe down and sit Jim down. Dr. Buss was the master at taking you to lunch or taking you to dinner and going over what he was thinking and what he wanted to do with the team.

"Jerry West was good at that as well. Kobe, Mitch and Jim just have to get on the same page and things will be OK."
via
Magic: Bryant, Jim Buss need to have face-to-face chat - LA Daily News
.
After the Lakers shootaround,
Bryant told reporters
when asked if it was time for he and the younger Buss to sit down and have a conversation, "Um, perhaps." That was all, but that one word speaks volumes. If it was no, he could have said "I don't know" or "I'm just a player" or even "I'd be open to it." But that's not it. It's Bryant trying to push for change in the organization, to right the ship. This team isn't over, it's not done, it's not through trying to win championships and still features three great players and one or two good players. Bryant's not willing to sit by and let this situation get out of control.
Meanwhile, Magic Johnson is sticking up for the franchise player, going with the star trying to make the most of the end of his career instead of the son of his long-time friend and employer Jerry Buss. (Read the excellent "
When the Game Was Ours
" by Jakcie McMullen for more on Magic and Buss' friendship.) It's incredible that not only is Bryant openly questioning management, but that the greatest player in franchise history has openly said the GM is not in charge and that the managing owner needs to communicate better with his team. This kind of thing simply doesn't happen. And yet here we are.
The Lakers held a players-oly meeting this week to try and focus past all the distractions and it worked in a blowout win over Portland. As of this writing, they lead the
Mavericks
by 12 in the second quarter Wednesday night. So the players are doing their part to work past the issues. Will the front office?
Strange days for the most successful franchise in the NBA.