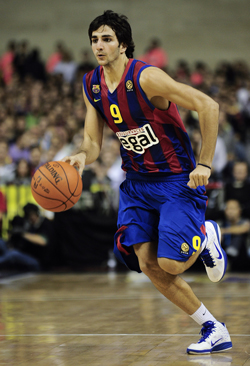 By Matt Moore
Kevin Garnett
left Minnesota without any of the acrimony that
LeBron James
or
Carmelo Anthony
faced. He was traded for what at the time looked like a quality set of assets, and said nothing but good things about the team during and afterwards. It's easy to call that lip service and to pin Garnett as some sort of double-talking traitor, but that's not the reality. And you don't have to ask him. You can ask
Ricky Rubio
.
Rubio spoke with the
Minneapolis Star-Tribune
and revealed that KG was giving him a pep talk about Minnesota:
The people are so nice. I talk with KG, too, and he talked to me great things about Minnesota. He said the crowd cheers very hard for the team. They love the sport. We have to fight to give them what they are waiting for us to do, to win.
via
Rubio will be ready when called upon by Wolves | StarTribune.com
.
This is why Garnett is still a hero in Minnesota when he returns. He could have torched Minnesota, but instead he's encouraging Rubio to invest in it, after Rubio has been lukewarm at best about the place (especially the weather -- insert temperature joke here). It's a sign of the positive feelings that Garnett still has for the team he spent so much of his career in. He'll likely end up entering the Hall a Celtic, but he'll always be welcome in Minnesota and continues to do right by the team. It's also great to see a player of his stature talking to a rookie in such a positive way.
Rubio still comes off as concerned about the weather in the article, but he'll get over it. He's not going to be shoveling his driveway, he can have a driver in a hummer limo take him to and from the game, he can afford the nicest, warmest clothes possible. He's a big boy, he'll be fine. And by all accounts, when the season starts (if ever), the
Timberwolves
are ready to turn it around.
And KG will be happy for them.
(HT:
SLAM
)