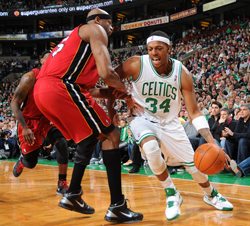 By Matt Moore
In an interview with Yahoo Sports,
Paul Pierce
says that the next step in the process is on the owners, despite the players having removed the possibility of collective bargaining by dissolving their union:
Q: Do the players or owners have to take the next step to renew labor talks?

Pierce: "I think the owners have to take the step. We have taken a lot of steps. I think we have taken as many steps as we can take, which is why we are at where we are at. We feel like we've taken the most steps. That's why we are going to court now."
via
Paul Pierce: Players needed to make stand - NBA - Yahoo! Sports
.
It's interesting because while the league said, through David Stern, that "collective bargaining is over," the players were the ones who declined to offer a counter-proposal to the owners and instead disclaimed interest, dissolving the union. The last proposal on the table was the league's, the 50/50 split the players rejected. So to say it's on the owners is a bit strange.
But on the flip side, the players may consider their decision to file suit a response in and of itself. Basically "we don't want your deal, here's our counter-proposal, you guys deal with a multi-billion-dollar lawsuit, how about them apples?" So if the league wants a response, that's the response. Unfortunately, it's going to take the league making its first real step back from the full-court press they've applied for five months for them to offer another proposal, or even a bargaining session.
So, yeah, things are going great, you guys!