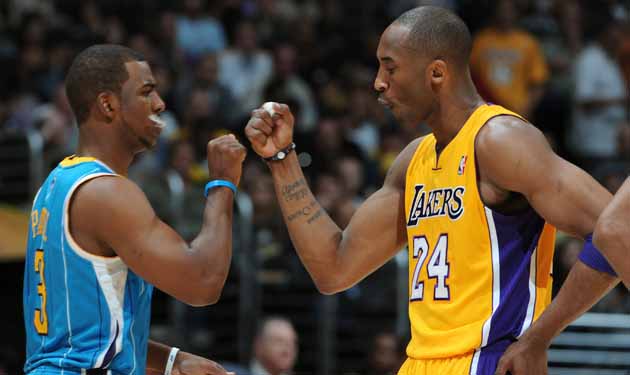 Posted by EOB Staff.


On Thursday, reports surfaced that the Los Angeles
Lakers
, New Orleans
Hornets
and Houston
Rockets
agreed to a 3-team trade that sent
Chris Paul
to L.A.,
Pau Gasol
to Houston, and
Lamar Odom
,
Luis Scola
,
Kevin Martin
and
Goran Dragic
to New Orleans. Assuming the trade is completed as reported once free agency opens on Friday, here's who won and lost.

Winners: Los Angeles Lakers
Just when you thought the championship window was closing, Chris Paul, the perfect backcourt partner for Kobe Bryant, enters to re-install Los Angeles as clear Western Conference favorites and eventually receive the face of the franchise baton from Bryant, ushering in the next era of Lakers basketball. Talk about reloading rather than rebuilding, the Lakers now have two multi-talented threats on the perimeter, two guards committed to two-way play and two of the most competitive players in the NBA. On top of that outside firepower, the Lakers retain promising center Andrew Bynum in the middle and could possibly look to flip him for Orlando Magic All-Star center Dwight Howard, as has been rumored recently. Even if step two of the plan falls through, the Lakers have the best top-3 players of any team in the league this season, Miami Heat included.
Losers: Houston Rockets
The Rockets get the second best player in this trade but it ultimately amounts to a solid but not spectacular upgrade, as Pau Gasol plugs in for Luis Scola. The Rockets also improve their cap position by attaining some extra flexibility but it comes at the cost of their major perimeter scoring three, a proven backup point guard and at least one draft pick. The cupboards around Gasol are fairly bare. While he's an All-Star and a potential franchise guy, Houston is asking too much unless major additional moves are in the works. When push comes to shove, it's better to have perennial All-Star than a host of minor trade assets but this won't be a transformational move for Houston unless something major is coming in free agency.
Winners/Losers: New Orleans Hornets
It's difficult to be declared a "winner" when you lose the popular face of your small-market franchise to a major-market monolith because he had all the leverage. But the Hornets did alright here. They won't be contending for anything any time soon but they got a number of efficient, proven pieces, flexibility in Lamar Odom, and some draft pick building blocks. Considering how quickly the trade came together, it could have been a lot worse. Potential buyers of the Hornets, who are currently owned by the NBA, will have to swallow the fact that they no longer have a marquee star but, at the same time, they won't need to deal with six months of trade rumors and free agency plans. The franchise is on steadier ground, even if it's a step down from where it has been for the last few years.
Losers: Boston Celtics
The Celtics thought they had a legit chance at upgrading from Rajon Rondo to Paul and instead came home with Keyon Dooling as a party favor. Thanks for playing. The always-aggressive Danny Ainge will surely live to fight another day.
Losers: New York Knicks
Landing Tyson Chandler, even if they have to over-pay, would help soften the blow of watching Los Angeles pilfer Paul. Still, CP3 was the true apple of the Big Apple's eye and the Knicks must now head back to the drawing board.
Winner: Devan Ebanks
Someone is about to get seriously paid for his No. 3 jersey. CP7 just doesn't have quite the same ring to it.
Loser: Derek Fisher
Time was running out for Fisher as the head man of the Lakers to start with, but now it's officially over. He instantly becomes a backup and someone that's looking at 15 minutes a game. Actually, he might say that he's a winner...

Winner: Mike Brown
He gets to start basically fresh with the Lakers. No leftovers of the triangle, no inherited drama between Gasol and Kobe. He can install whatever kind of system he wants and now has Chris Freaking Paul to run it. There might be a bit more pressure on him now with this studly looking team, but he's the head coach of the Lakers. That's to be expected.
Loser: Kevin Martin
Sometime, someone will have to explain to us why exactly it is that Kevin Martin can never be traded to a contender. He's hyper-efficient, he's capable, he plays hard, he's an offensive juggernaut when he gets rolling, and yet, he winds up on the New Orleans Island of Misfit Toys.
Winner: Chris Paul
He gets to go somewhere he wants, play with Kobe Bryant and instantly be on a team that can win a championship. He's never had that before. He doesn't have to spend a lame duck season in New Orleans, doesn't have to answer constant questions about where he might be traded and moves right into forum blue and gold right in time for training camp.
Loser: Pau Gasol


Do you realize a year ago, Pau Gasol was discussed as potentially the best big man in the NBA? That he was a near-MVP candidate for the first two months of last season? And today he's the Rockets desperation project, a biscuit thrown in by the Lakers to entice the Rockets into giving two B+ players to New Orleans. Houston has a new coach, an incomplete roster, and a desperate front office. But we do hear the symphony, which Gasol loves, is nice there. So he's got that going for him.

Winner: Kobe Bryant
Uh... winnner. The guy who has pouted his way through even championship seasons over frustrations with Pau Gasol's ice cream interior gets the best point guard in the NBA and one of the truly most brutally win-obsessed players in the NBA. Paul is the only player who can match Bryant's intensity... and his brilliance. He will never be left scowling from being open again. Kobe rides into the sunset in glory.
Winner: Andrew Bynum
For now: Bynum gets the best pick-and-roll point guard in the league (with apologies to
Steve Nash
) to throw him alley-oops. He gets a larger share of the offense and now is a member of the "Big 3" in L.A.. He's in a great position... and he might get traded to Orlando for Dwight Howard. So this could be the best thing that ever happened to his career, or the worst thing possible.
Winner: Luis Scola
The food is GREAT in New Orleans. The end.
Loser: Lamar Odom
The reality television opportunities
aren't
so great in New Orleans. He seemed to genuinely love the Hollywood stage. Welcome to a different life.