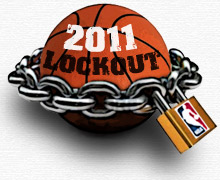 Posted by Royce Young
Is it starting to feel like we're entering the home stretch portion of the NBA Lockout? From here to the finish line, stick with CBSSports.com's Lockout Buzz posts to get the very latest news and rumors concerning the ongoing collective bargaining agreement negotiations. These posts will update regularly.
Agent says deal could be done Saturday?
According to NBA.com
: a "prominent agent says union informed him that deal could be reached by Saturday."
Team employees advised to be ready?
Via Deadspin
, some teams are informing low-level employees to be ready to resume work Monday. "The New Jersey
Nets
ticket sales office, idle for most of the fall, is holding a series of hastily called meetings today under the theme "Be Ready." One staffer tells us that a department-wide email has been circulated, instructing employees that "it's time to get back to work." The short-staffed
76ers
' team office has been told that Monday will be "all hands on deck," as per orders from the league."
That could be something to read in to, and it could be something that's just conjecture because of all the recent optimism. Whatever the case, it seems like good news which is fun to see. But before you get too ramped up,
SB Nation reports
those type of emails have gone out a few times before.
Amnesty overhaul?
According to ESPN.com
, there's a push from
Spurs
' owner Peter Holt to tweak the amnesty clause proposal. Teams would be allowed to have at least two years to decide whether or not to amnesty one player. The concept has to be haggled out a bit more according to the report, but there's reportedly enough support to get it push through in the new labor deal.
Arenas keeping dates open?
Via the New York Times
, league officials who are anticipating a resolution are prepping for an 82-game season by calling arenas across the league asking them to keep dates open in late April.
An Oklahoma City arena official told me that they have not been contacted by anyone yet about keeping dates open for an 82-game schedule.
Paul Allen sent to observe Kessler?
A lot was made of Blazers owner Paul Allen making an appearance to supposedly "deliver a message" which is what helped talks to fall apart last week.
But according to TrueHoop
, that's not exactly what happened.
"NBA sources, however, say it was nothing of the sort. In fact, they say, he was there at the invitation of the NBA's negotiators to watch Kessler. Allen was one of several owners who thought Stern and Silver had made players an overly generous offer of 50 percent of basketball-related income. The league's lead negotiators essentially replied: go see for yourself. You think you can get Kessler to go for 47 percent? Good luck to you."
Owners move off steep luxury tax?
SI.com reports that owners
have moved away from a steeply punitive luxury tax system in the latest rounds of NBA lockout talks.
But as the New York Times reports
, "Some notes of caution on NBA labor talks: 'very, very difficult system issues' still to be settled, source says, including luxury tax plan."
The system is likely all but settled, but iron out the final details will be a slippery slope to walk down for the two sides Friday.