Los Angeles Lakers forward Ron Artest is the winner of the 2010-2011 J. Walter Kennedy Citizenship Award. Posted by Ben Golliver.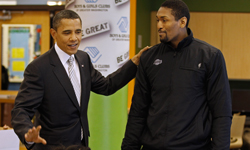 Ron Artest wins the J. Walter Kennedy Citizenship Award. That only sounds like a headline from The Onion if you haven't been paying attention this season, as Artest has established himself as one of the most committed and public fundraisers in the NBA.
Artest's issue of interest is mental health awareness and his good deeds are almost too many to name. He
donated a significant portion of his salary
. He
raffled off his only championship ring
. He
met with Congressional lawmakers in D.C.
to discuss the issue (
via the Orange County Register
).
Here's an excerpt from the NBA's press release.
Ron Artest of the Los Angeles Lakers is the 2010-11 recipient of the J. Walter Kennedy Citizenship Award presented annually by the Professional Basketball Writers Association. The award is named for the second commissioner of the league and honors an NBA player or coach for outstanding service and dedication to the community.
Artest won for his tireless efforts to promote awareness of mental health, including fund-raising, appearing before Congress in support of Mental Health in Schools Act and his all-around advocacy on the issue. Artest also raffled off his 2010 Championship Ring, raising more than $650,000 for mental health awareness, and took part in a public service announcement in conjunction with the Los Angeles County Department of Mental Health.
"Ron has such a passion for the issue, and has demonstrated such leadership he was a perfect choice for such a prestigious award," said Doug Smith of the Toronto Star and president of the Professional Basketball Writers Association. "His work embodies the kind of dedication to important causes that NBA players have become known for."
As
we wrote back in December
...
If you tried to tell people in 2004 that the Ron Artest who fought with fans in the stands during a game in Detroit would provide the NBA's best Christmas story of 2010, they would have scoffed. That Artest has gone so far above and beyond in his maturation and awareness of his role as a public figure deserves all the praise in the world.
In a league known for its copycat culture, here's hoping Artest's actions inspire his fellow players to pursue creative, far-reaching charitable contributions on issues that matter to them.
Artest becomes the first Laker to win the award since
Magic
Johnson in 1991-1992. Michael Cooper was also a winner in 1985-1986. Last year's winner was
Samuel Dalembert
of the Philadelphia
76ers
for his work raising money for relief efforts in his native Haiti.