Dallas Mavericks forward Dirk Nowitzki should be good to go for Game 5. Posted by Ben Golliver.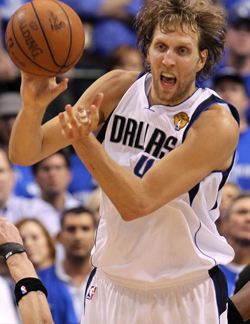 DALLAS --
Obviously, it didn't compare to Michael Jordan's "Flu Game," but Dallas Mavericks forward Dirk Nowitzki played very well despite being very sick during Game 4 of the 2011 NBA Finals on Tuesday night.
Nowitzki battled a 100+ degree temperature and was hacking and wheezing during his post-game press conference. Despite the sickness, Nowitzki finished with a team-high 21 points, 11 rebounds and one assist.
After
taking it easy on Wednesday
, it sounds like he should be good to go for Game 5 on Thursday.
Nowitzki
said simply
: "I feel great."
"He's feeling better, which is important," Mavericks coach Rick Carlisle said. "That's a plus for us."
Carlisle said the bumps and bruises wouldn't affect any of his players' availability. "We have a couple of other guys that are banged up. At this point, you play. You have to."
There is one exception: Carlisle said that center
Brendan Haywood
, who sat out Game 3 and was limited in Game 4 with a right hip flexor injury, will be officially listed as a game-time decision on Thursday night.
As per his custom, Carlisle wouldn't divulge his starting lineup or the members of his active roster until closer to game time.