The Denver Nuggets' new management is reportedly ready to trade Carmelo Anthony and they have an idea about what they are looking for in return.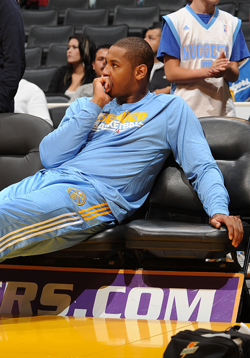 Posted by Ben Golliver.
The writing has been on the wall since last summer: the Denver Nuggets need to trade Carmelo Anthony if they cannot get him to agree to a contract extension, so they aren't left empty-handed like the Cleveland
Cavaliers
and Toronto
Raptors
, when
LeBron James
and
Chris Bosh
, left those respective towns as free agents without looking back. With such an obvious predicament, the organization brought in a new front office this fall led by first-time GM Masai Ujiri to help make the best of a bad situation. The group has so far looked thoughtful and restrained, shopping Anthony with solid results, biding its time to think through the possibilities, and hope that their all star forward magically decides that stability in Denver is more important than the lures of free agency and/or the big city lights. Any time you considering a franchise-altering trade, it's critically important to investigate all options, weighs the pros and cons of each and carefully plot the course going forward. With the Dec. 15 date for players signed during the summer coming up next week, and the trade deadline inching closer by the day,
Ken Berger of CBSSports.com reports
that the Nuggets have gone through the necessary machinations and come to the same inevitable conclusion that faced them over the summer: trading Anthony is a necessity, and receiving a rebuild-friendly offer that includes young players, reasonable contracts and draft picks is of the utmost importance.
According to people in contact with the Nuggets' management team, there is far more clarity today about what the team is seeking in a potential Anthony trade than there was in September, when new GM Masai Ujiri was thrust into the tempest in his initial days and weeks on the job. Executives believe the Nuggets have decided they would like to receive the best possible package of young players and are not interested in stopgap options that would hamper their flexibility. Acquiring a high-priced veteran player -- such as Andre Iguodala, whose talent the Nuggets value but not his contract -- would only hurt the team's ability to build around youth while maintaining payroll flexibility into the uncertainty of a new collective bargaining agreement.
The Nets' package of 2010 No. 4 pick Derrick Favors, guard Devin Harris, the expiring contract of Kris Humphries and two first-round picks remains the most attractive option to the Nuggets, sources say. Additional trade partners such as Charlotte and Utah are not eager to get involved in the discussions again, but wouldn't necessarily be needed this time.
If that offer is on the table, there should be absolutely no hesitation on Denver's part. Two solid starting pieces paid reasonable salaries, plus picks, plus a measure of financial flexibility heading into a potential lockout? If you're Denver, what more could you possibly want and reasonably expect? Pull the trigger before the Nets realize Anthony isn't actually that good.
The next step
would be to move veteran point guard
Chauncey Billups
in a similar fashion, and the future would be upon the Nuggets far more quickly that they could have hoped. One needs look no further than the mess in Cleveland for added motivation to go through with trading Anthony.
A coach who wonders whether his players are listening
.
Players who lay down
and
get punked by James
in his return to Cleveland. All sorts of mismatched, expensive roster pieces that no longer fit together after the centerpiece is gone. A lack of young talent, save forward
J.J. Hickson
, to provide an element of excitement and hope to a starving fanbase. Denver: you really, really, really do not want to be Cleveland. Move Anthony, and ensure your future is brighter.