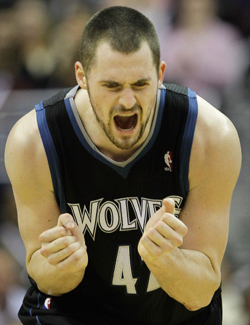 Posted by Royce Young
When the
Lakers
hired Mike Brown as Phil Jackson's replacement in Los Angeles,
Kobe Bryant
was a little cheesed that he wasn't at least asked about the hire. As the team's best player and franchise face, Kobe felt he was at least owed the respect of being consulted on it.
The Lakers quickly realized their gaffe and acknowledged that Kobe should've been part of the process.
So you can imagine that the
Timberwolves
-- a team that's constantly battle public perception -- isn't going to be making that mistake.
Via The Big Lead
,
Kevin Love
-- who is Minnesota's best player -- says the Wolves are involving him quite a bit in the coaching search.
I have definitely been asked by David Kahn what I thought about the situation, and I gave my two cents. I told them I think we need a coach to help us grow and win in tough situations and learn how to win. A guy who is going to be able to work with young guys and go through the growing pains to help us become a better team. There were a few names thrown out to me prior to the interview process, and they've all interviewed so far.
Even if a GM isn't going to actually use whatever a player says as part of the hiring criteria, it makes them feel good to just be included. The player feels like he's invested in the franchise and part of the process. It can go a long way in helping a player feel like he's committed to the long-term future.
Which is probably why Kahn made sure to ask Love. Because with Love's contract status up in the air soon and the Wolves not exactly looking like an attractive situation, there's no room for error. Upset Love even in the slightest and you might give him reason to walk away.
It's kind of sucking up to a player really, but it certainly has its value. Whoever the Wolves hire, Love is going to feel like he had a hand in it. He's going to feel like it's his skin on the line too if the coach doesn't work out. Not every player gets asked about a coaching hire. It's just the best ones, the franchise guys. And the Wolves clearly are trying to tell Love he's their guy.
You have to wonder though: Who's Love's favorite? Gotta be Don Nelson, right? We can only hope.