LeBron James' free-agency escapades may have held up Carmelo's intent to relocate this summer.
Posted by Matt Moore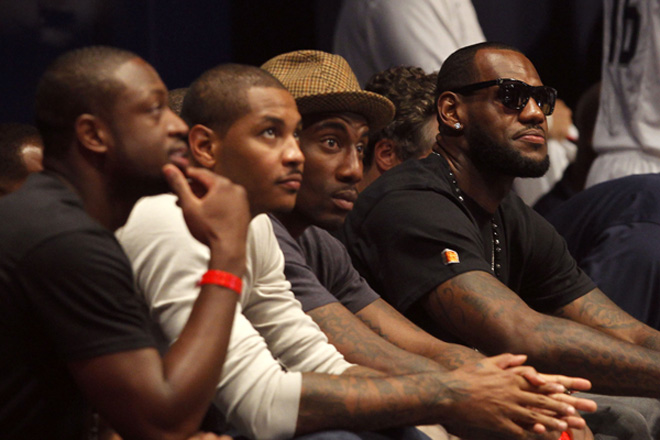 Ken Berger's post on
Carmelo Anthony
contains a wealth of information
on the Carmelo Anthony situation. Among the information relayed is this particular nugget of note which contains a reference to our favorite Triad currently struggling down in South Beach:
This is precisely where the Nuggets began to lose their leverage with Melo, according to a rival executive and a second person familiar with the dynamics. As teams that would've been attractive to Anthony began scrambling to use their cap space on Plans B and C after striking out on LeBron and Wade, Anthony and the Nuggets were stuck in limbo. Melo's representatives at Creative Artists Agency -- the same operation that had been preoccupied all summer orchestrating the Miami signings -- didn't begin making noise about Anthony's desire for a trade until August. By then, the Nuggets' front office had been blown up and several promising trade partners had spent their money elsewhere. It was too late.
So what to take from this? Well, most prominently, if Carmelo Anthony does in fact want out of Denver and into a more attractive market, you know, like the five that were fawning over James and his cohorts this summer? Then CAA's distracted stance with those three overshadowed the situation regarding Carmelo and in doing so, was slow to enable him to move, and subsequently landed him firmly cemented in the Mile High City.
Not that this will affect Carmelo's relationship with the Triad, those guys are thick as thieves. But there's still a level of complexity here where when you look at it. CAA was so wrapped up in "The Decision" and the formation of the rather epic PR disaster going on in Miami at the moment, it allowed Carmelo Anthony to become cemented in Denver, even while he was not signing a very available extension.
So. If following this logic we come to the conclusion that Carmelo Anthony is unlikely to win a championship this season, and if he does in fact want out (and again, Carmelo's been very clear that's not the case... maybe... probably... something), then this is kind of a lost season for him. And that's unfortunate.
Which would make the list of things damaged by LeBron James' free agency and related decisions: Cleveland, Ohio and all its residents, Cleveland
Cavaliers
fans worldwide, the New York
Knicks
, Chicago
Bulls
, Los Angeles
Clippers
, New Jersey
Nets
, Jim Gray's career,
Chris Bosh
and
Dwyane Wade
's public reputations, several members of the Miami
Heat
ticket sales office and the ability of Carmelo Anthony to expedite his relocation.
Look, you may hate the guy, but even you have to admit that's impressive.