Posted by Royce Young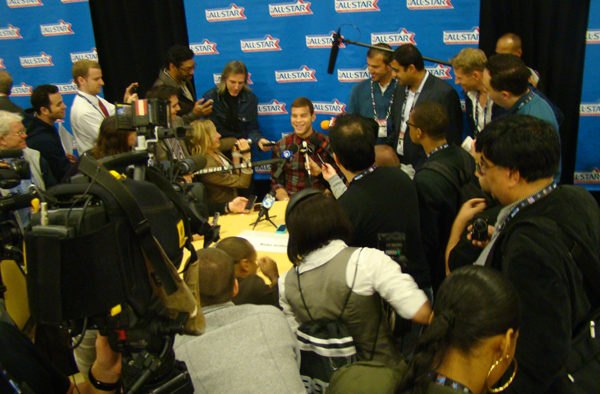 LOS ANGELES -- A few interesting items and quotes I picked up from the mad rush that is All-Star media availability:
Dirk Nowitzki talked a little about the potential of playing overseas if there is a lockout. He said, "Everything's open now." He mentioned his age and how he couldn't afford to take a full year off. So while he'd have to negotiate being released from his Mavericks contract and risk having it voided if he was injured, Dirk at least sounds like he's ready and willing to consider playing in Europe. Said Nowitzki:"Right now it seems like both sides are pretty far apart but things could change in a meeting or over time. We'll just have to wait and see."
Blake Griffin media swarm rivaled that of anyone not named Carmelo or Kobe. Reporters piled in around the Clipper rookie as if he was as household a name as any other superstar in the room. He was asked about a lot of things, but when asked about his friend Wilson Holloway that passed away this past weekend, Griffin's eyes watered as he said, "He's just one of those guys that was always positive and always a great guy. To see him go through what he did and always keep smiling and stay positive was an inspiration to a lot of people."
Also of note: Griffin talked about the dunk contest quite a bit and while he wouldn't reveal anything specific, he said he has one dunk that he feels pretty good about, saying that no one has ever seen that one. He also said he'll be employing Baron Davis for a little help and that they practiced the dunk Thursday night and that he was "surprised at how well it went."
Kevin Durant started a lot of chatter after he called Miami forward Chris Bosh a "fake tough guy" a couple weeks ago. I asked Bosh if it's been awkward seeing Durant this weekend and Bosh joked about the two getting together for an NBA Cares event. "His comments after a game, I've made bad comments after a game before. Or I've made comments that I wanted to take back or just something that I felt very strongly about and just said it the wrong way. Sometimes after a game, especially a close one, it can be the wrong time to ask a guy something like that but it's the nature of the business."
James Harden who is town replacing Tyreke Evans in the Rookie Challenge makes it four Thunder players participating in All-Star Weekend. And with Durant in the 3-point contest, Russell Westbrook in the Skill Competition, Serge Ibaka in the dunk contest plus Ibaka and Harden in the Rookie game with Westbrook and Durant in the All-Star Game, someone from OKC is in every event. "Thunder up, Thunder up," Harden said. "That was the whole objective, that was key. We didn't really worry about the individual statistics because we're all a family over there but it's great to be rewarded for your accomplishments so I'm excited for everyone to be here. As for a Thunder sweep? "That would be a good look," Harden said. "We could go back to our city with something to carry home."