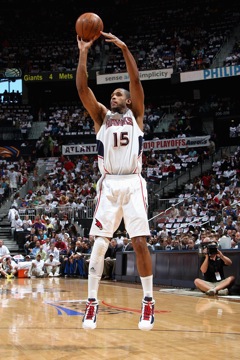 Posted by Royce Young
Nobody tell
Jamal Crawford
, but the
Hawks
are actively working on an extension for
Al Horford
reports the Atlanta Journal-Constitution.
Joakim Noah
reportedly
got about $60 million over five years over the weekend
and as I mentioned in that post, Noah's contract will probably be used as a measuring stick for Horford's extension. Both are center/power forward hybrids, both are young, both came into the league in the same draft class and hey, both played at Florida. (Not that that matters really though.)
Horford is looking to get paid and as he told the paper, he wants to stay in Atlanta.
"How do you see yourself with the team?" Horford told the AJC. "Do you think the team is going the right way? Obviously, you have to factor in do you like the city you are i? ... All those things favor me because I feel like we are in a good position. We've been playing together. This is my fourth year with the team, and I love the city of Atlanta."
Just like Noah, Atlanta has until Nov. 1 to make a deal with Horford on an extension, otherwise Horford becomes a restricted free agent next season. And you know the Hawks don't want that. The Hawks can offer an extension of up to five years and $82 million, but it's unlikely they'll max out on Horford. But then again, we all saw what they did with
Joe Johnson
over the summer. Right now, Horford is set to make $5.4 million in 2010-11, the final year of his rookie-scale contract.
Horford, 24, was taken with the third overall pick in the 2007 draft after he helped lead Florida to two NCAA championships. Eastern Conference coaches voted Horford to his first All-Star team last season, plus new Hawks coach Larry Drew recently named Horford as a captain with Joe Johnson and
Josh Smith
.
Again, this is the major hangup in Crawford getting the extension he so badly wants. The Hawks shelled out $120 million to Joe Johnson and are probably looking at tossing $60-70 on Horford. Paying Crawford is just a tough, tough thing right now for the Hawks.