Posted by Royce Young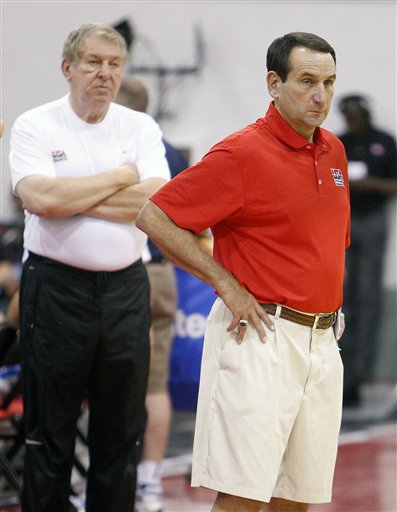 The first cuts for Team USA have been made and the 15 players that will be moving on to training camp (August 10-16) in New York are:
A few notes of the roster
:
We all knew it was going to be guard heavy. But now seeing the 15 that moved on, it's really guard heavy. JaVale McGee picked up a little momentum especially because of the injuries and issues within the roster, but eventually didn't move on. Instead the roster is going with versatility and players that will be able to shuffle through positions.
For instance, Jeff Green made the cut and Coach K as to why:

"It's one of the reasons he's still one of the 15 is because of his versatility."
Right now, there are four point guards. So common sense says one likely won't be making the final roster. How you narrow down between those four, I don't know.
Coach K indicated Billups would be a player that would slide over to the 2-guard slot when other point guards come in.
Team USA's center situation: Brook Lopez and Tyson Chandler. That's it. Coach K said, "We are concerned about the size."
Colangelo said Lopez was given the benefit of the doubt because of his case of mono. He said Lopez was selected for New York based on the idea that he would regain some form and get healthy. He mentioned that they didn't know Lopez came in ill, but admitted that his size probably helped him make this cut.
Coach K said players like Durant and Gay will play a lot of power forward.
Colangelo said as of right now, they have a sold eight or nine that will make the roster for Turkey. So that means there are three or four slots open to be battled for in New York.
These next fews weeks will the roster will likely get narrowed down to 12, though Colangelo noted that they might consider taking more than that to Turkey and then cutting from there. Only 12 can actually be eligible to
play
in Turkey, but Colangelo and Coach K indicated they may use all the time needed.