The Miami Heat will reportedly not break up its Big 3 of LeBron James, Dwyane Wade and Chris Bosh. Posted by Ben Golliver.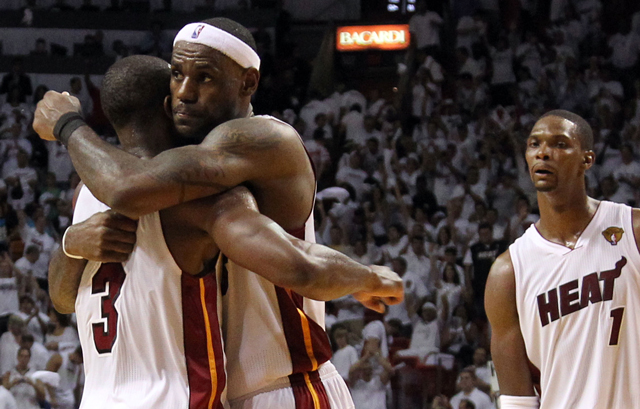 It's too bad that the late, great George Steinbrenner doesn't run the Miami Heat. Can you imagine his executive office meltdown when the Heat crumbled in the 2011 NBA Finals, losing three games in a row to the Dallas
Mavericks
to fall short of a title in the first year of the Big Three era?
Erik Spoelstra would be gone for sure, Chris Bosh's house would be on the market and the Heat's bench players would quickly be lining up rooms in various Miami-area old folk's homes.
Instead, the Heat are run by Pat Riley, a sage architect of multiple title-winners, who apparently is ready to keep a steady hand on the wheel amidst all the disappointment and unfulfilled expectations.
Indeed,
the New York Daily News reports
that the Heatles will be back for another tour.
Not long after LeBron James' Finals flameout, Miami president Pat Riley has sent word to other league execs: He's not breaking up his Big Three. That's too bad -- for the rest of the NBA.
This is the wise, save move for now. Coming within two wins of a title in your first year together, expressing massive dominance over your Eastern Conference rivals and having the best trio of players -- all in their primes -- only bodes well for next season. The Heat, without any doubt, are the favorites to win the 2012 title as is.
Of course, Bosh has clearly been pushed to a separate tier by the blossoming James/Wade bromance and his questionable fit stuck out in the Finals. He didn't play enough defense or grab enough rebounds, and he couldn't get enough touches on offense, to really maximize his skills. He played hard, there's no questioning that, but his skill set isn't perfect for what James and Wade demand around them.
It's a questionable but not necessarily fatal fit long term. Riley should absolutely listen to offers for Bosh, but he need not shop any of his players. The odds that he will get better value in return for Bosh are fairly long, and the media attention will be insane if he actually goes on the block.