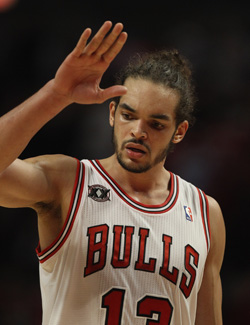 Joakim Noah provides the spark for the Bulls in Game 2.
Posted by Matt Moore
The Bulls can't win if
Derrick Rose
plays poorly (he can play "not great" as he did Wednesday night, despite what the point total and narratives will tell you, just not badly). But more prevalent in Game 2 was this: the Bulls can't lose if Joakim Noah plays great.
19 points on 6-8 shooting, 14 rebounds, 7 offensive, 3 steals and 1 block. That's a great line. And it doesn't even cover how big of an impact he had versus the
Hawks
. 50 percent of the Bulls' offensive rebounds were snagged by Noah. On a night when the Bulls' offense was only slightly less woeful than the Hawks', those seven extra possessions, full of putbacks and resets, were vital. Basically, if you can't produce efficiency with the possessions provided, create more possessions.
Most notable was his dominance over
Al Horford
. Horford is generally regarded as the better player. He's more versatile, has better range, is more efficient and a better passer. But in terms of those key plays which make your team that little bit better than the other in key areas, Noah dragged Horford out behind the shed and taught him a thing or two. Which is odd since they both learned about those things at the same university. If Noah's going to get at those key rebounds at that rate over Horford and
Josh Smith
, the Bulls will simply grind the Hawks into wood shavings, as they did in Game 2.
Noah's not particularly versatile, but he had the full array going on Wednesday, including the lefty hook early for the first points for the Bulls. It's that production that puts the Bulls at a level just high enough to overcome an inefficient game from Rose and a terrible game from pretty much every other Bull offensively. Noah struggled in the regular season with injury and the first round with energy. But his biggest performances coincide with the Bulls' strongest wins. The Bulls' win over the Hawks in Game 2 wasn't pretty. It was just very Noah.