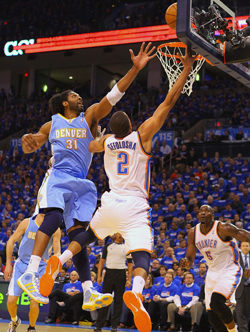 By Matt Moore
Nene is arguably the biggest name in free agency. He's a veteran center who's not too old to contribute and yet still mean as all get out in the paint. He's going to be an extremely valuable commodity on the open market, whenever it opens. So naturally, Nene is looking to cash in, right? This is the big final contract before he heads off to build churches in Brazil? That's got to be his biggest priority. Money.
Well, Nene says that's not the case. From the
Denver Post
:
Whenever the NBA gets going again, Nene will be a free agent, after opting out of the final year of his Nuggets contract ($11.6 million). He reiterated that it's possible he could return to the Nuggets but suggested that one of the reasons he wants to play elsewhere is for a more immediate chance at a championship.

"After nine years, I have goals and I'm a team player," said Nene, who has averaged 12.3 points and 7.0 rebounds in his career. "I'm very competitive. I want to accomplish everything. It's a big opportunity, and it's the only one in my life to be a top free agent. So I want to enjoy this moment. If people think it's about money, they're wrong. I've saved my money. I could retire today. I don't need to prove points. I like it a lot here."
via
Nuggets' Nene stays in shape playing soccer during lockout - The Denver Post
.
A lot of players talk about money not being the important thing, but with Nene it's likely true. He's long said that he's not in basketball to make as much money as possible. The only question will be what effect money not being an issue will have on where he ends up.
If money's not most important, is loyalty? Because that would lead him back to Denver. Denver has the cap space to pay him a max contract, but if that's not his biggest goal, it may be irrelevant.
If money's not important and it is winning, there's a concern from many about another possible destination: Miami. Miami desperately needs a center, a veteran center, and a good veteran center. Nene would make them an even more dangerous team than the Finals participant from this season.
Other candidates if Nene's just looking to pursue a title include Boston (a mean-mug replacement for Perkins) and New York (imagine how many dunks he'd get in that system). But Nene's been a star in Denver and finally has the spotlight to himself with Melo out. It's a tough decision but a fun one to make. When money's not the only thing that matters, you get to see what your options are a bit more.