The Atlanta Hawks are reportedly considering trading forward Josh Smith. Posted by Ben Golliver.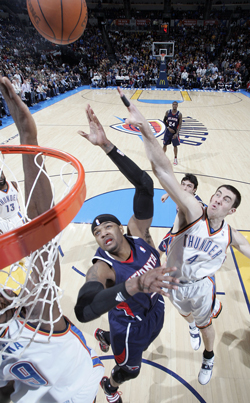 Finally, someone other than Philadelphia
76ers
forward
Andre Iguodala
is involved in a trade rumor!
Yahoo! Sports reports
that the Atlanta Hawks and forward Josh Smith might be headed for a break-up.
The Atlanta Hawks have started to gauge trade interest on forward Josh Smith, and Smith isn't averse to ending his seven-year stay with his hometown team, league sources told Yahoo! Sports on Monday.

Smith hasn't requested a trade, but has privately told league friends that the Boston Celtics, New Jersey Nets, Houston Rockets and Orlando Magic are his preferred destinations should the Hawks decide to move him.

"The relationship has run its course," said a league source with knowledge of the dynamic.
Smith is on the books for $12.4 million next season and $13.2 million in 2012-2013. Those are hefty numbers but his versatile game is probably worth it.
At 25, Smith has flirted with figuring it out over the course of his NBA career, but always seems to revert back to his bad habits: poor shot selection and moody behavior. An exceptional athlete and game-changing defender, Smith is at his best when fully motivated and engaged, attacking the basket and using his leaping ability to play above defenders.
He stuffs the stat sheet, averaging 16.5 points, 8.5 rebounds, 3.3 assists, 1.6 blocks and 1.3 steals in 34 minutes per game in 2010-2011. Smith has never been selected as an NBA All-Star, but he's been on the fringes of the discussion in recent years.
Smith should be able to produce those numbers, or similar, for at least the next three to five seasons. One factor for teams interested in trading for him: He will likely command a sizable contract when his current deal is up, as he will be hitting free agency at the age of 27.
Of the teams listed, the New Jersey Nets and Orlando Magic jump out of the group in terms of having a specific positional need. In Orlando, Smith would be paired with childhood pal
Dwight Howard
to make the best four-five combination in the league. Houston would be an intriguing option too, and the Rockets, with two first round picks and lots of young talent, might very well be able to present the Hawks with the best offer.