Posted by Royce Young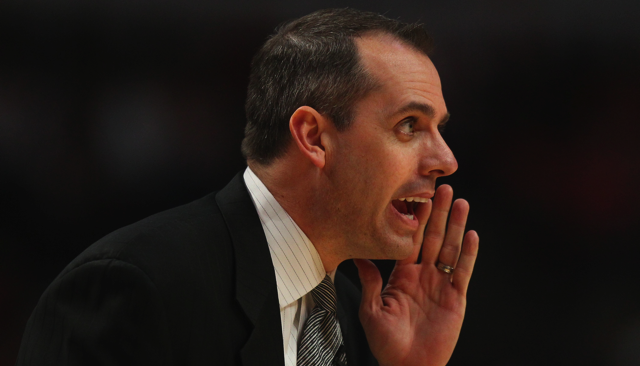 No team has ever come back from three games to zero in NBA history. There's two sides of thought that sort of stat. That means a series is over if you get yourself in a 3-0 hole or that just means NBA history is waiting to be made.
Evidently, Pacer interim coach Frank Vogel is of the latter category.
He said today,
"We feel like if we win this game tonight, we'll win the series."
Vogel is nothing if not bold, energetic and full of optimism. That's who he is and one of the reasons he's helped pull this Pacer team together and not only get to the postseason, but make a pretty good showing against the top-seeded
Bulls
.
It's not like he guaranteed victory or anything. He just expressed some confidence in his group. All of us on the outside pretty much know this series is over, but the
Pacers
still have at least one game to play. Don't try and tell them not to show up to the United Center tonight. They have a game and they intend to win.
I remember when the 2004 Red Sox pulled off their infamous comeback over the Yankees, first baseman Kevin Millar was walking around before Game 4 saying, "They better not let us win this game. They better not." It's all about mindset. And Millar and his group of "idiots" convinced themselves that if they could just get one, they could get three more.
And this shot of confidence from Vogel is of that same line of thinking. He's telling his guys, you win this one, you can win again. And again. Because let's face it: It's not like the Bulls have completely outclassed the Pacers. Really, Chicago is fairly lucky to even be where its at. If the Pacers were to pull off another stunner tonight, they'd be taking the series to a Game 6 at home with a chance to force a Game 7.
Plus they'd have momentum and added pressure placed on the Bulls. He knows what he's doing here. He's a motivator. He's trying to comvince his guys to believe this isn't over.
Win just one more for me and we can do this!
It sounds pretty stupid because again, history says it's not happening but at some point the NBA will find its 2004 Red Sox. Vogel is asking his guys to write some history with him. He's asking, "Why not us?"
Here's why not: Because the Bulls have
Derrick Rose
and Indiana doesn't. It's fun to talk about though, right?