Charlotte Bobcats coach Paul Silas says that Bobcats owner Michael Jordan could score "15 to 20 points a game." Posted by Ben Golliver.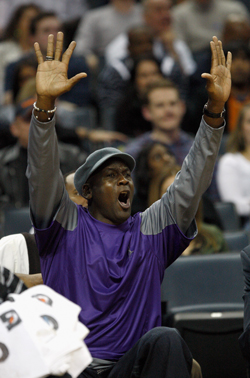 Michael Jordan is 47 years old and hasn't played professional basketball since the 2002-2003 season. In those eight years away from the game, Jordan has been an executive for multiple teams and recently became owner of the Charlotte Bobcats.
In perhaps his biggest move as owner, Jordan parted ways with head coach Larry Brown and installed Paul Silas in his place. In return, Silas has taken to the radio airwaves to extoll Jordan's still considerable basketball talents. In an interview with ESPN Radio 1000 in Chicago, transcribed by
SportsRadioInterviews.com
, Silas confirmed that Jordan has been working out with the Bobcats players and says that the Hall of Famer could still be an impact player in the NBA.
"Yeah, he comes and works out with the guys. We make him shoot before practice and he's in the shooting lines … and he's doing the drills with them and getting up and down the court. It's exciting to watch him. He still has it, can shoot that thing still. Not as athletic as he once was, of course, but who is. … He's been a huge help."
"If he got in shape, he could probably average 15 to 20 points a game, no question. He still has the shot. If he got in shape he could probably average 20 because he can get the shot off, he can make them and he really has an uncanny knowledge of the game."
For reference, only 21 players in the NBA
currently average
20 points per game and only 66 average at least 15 points per game. Also, to be clear, if Jordan returned to play today,
he would be the oldest player to ever play
in the NBA. Ever. (Again for emphasis.) He would also be nearly a decade older than the current oldest active player, Boston
Celtics
center
Shaquille O'Neal
.
I'll be the first to confess that I'm a huge, huge, huge MJ honk. Greatest Of All Time. There's no debate now and there will never be a debate. With that said, unlike Silas, MJ doesn't cut my checks.
What Silas is saying here is polite and wishful hero-making, but it's not accurate. Essentially, he's arguing that MJ could be an NBA team's No. 1 or No. 2 scorer right now against many players who are less than half of his age. That has to be impossible. No coach would turn the keys over to Jordan. (Not even Silas.) No matter how much Jordan is still revered, there's no way his hypothetical teammates would let him get that many shots if this actually played out.
In a reasonable best case scenario, the MJ of today would be much like the
Tracy McGrady
of today: slowed by limited mobility and limited spring but able to be somewhat effective for a losing team in a limited role. Sure, MJ might have more tricks and better shot selection than McGrady, but nothing would be coming easy to him (no open floor transition buckets, less trips to the foul line where he made a killing, etc.). Running things through Jordan is theoretically possible, but it couldn't be a winning, sustainable strategy.
In MJ's last season he shot 44% from the field; McGrady is currently shooting 44.8% from the field. Because he's only playing 23.1 minutes per game, McGrady is currently averaging 8.1 points per game. Even if we take the mental leap that Jordan can keep up for, say, 35 minutes a night, he would still need to improve his shooting efficiency considerably to reach 15 points a game. The odds that Jordan is a better shooter now than he was seven years ago? Not very good. The odds that his body could sustain 35 minutes a night 82 times a season? Even worse.
Here's the rub: We still have to stop and think about whether Jordan could do these things. We're still not at the point - nearly a decade later - where claims such as these are instantly dismissed. Indeed, if I were a GM and you gave me the choice between Jordan and McGrady right now, I'd at least work out Jordan before I made the decision. I'd see if I could arrange a litttle one-on-one. Wouldn't you?
Put it this way: If Silas had simply said Jordan could score 8-10 points per game off the bench, would anyone raise an eyebrow?
Update

:
Check BusinessInsider.com for
a detailed, nuanced comarpsion between Jordan and McGrady
.