Posted by Royce Young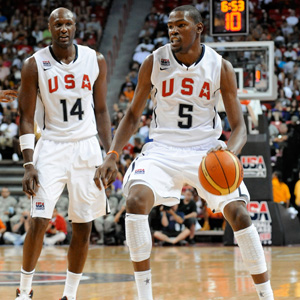 Cuts are expected today for Team USA and Jerry Colangelo says right now he plans on taking 15 players to training camp. Currently though, there are 19 guys on the roster, so four appear to be getting the rest of the summer off.
So, the obvious question i s: Who's likely to be in and out? And not only that, who's looking good for the final roster as well?
The Lock
Kevin Durant
- I'm going to write something here just because everybody else is. But we know this is KD's team and he did nothing Saturday night to make you think otherwise. Not only did he score at his typical high-efficiency clip (28 points on 10-17 shooting) but he also showed off some excellent passing skills. He's the only guy that's a
confirmed
lock at this point.
The Almost Locks
Derrick Rose
- The competition is pretty fierce between Rose,
Russell Westbrook
,
Rajon Rondo
and
Chauncey Billups
. Deciding not only who makes the final cut will be tough, but who plays? Right now Rose has the upper hand because of reputation and also he's played well thus far in Vegas. But a poor week and he could easily slip down into the maybe section.
Chauncey Billups
- Billups will likely make the final roster by default. He's the elder statesman of the team and with so many guys around 21 or 22, having an "OG" (Old Guy) as they're calling him, isn't a bad thing.
Rudy Gay
- Other than Durant, Gay was the most impressive player Saturday. He netted 23 on 7-11 from the floor and really showcased his athleticism. Gay has an extremely good chance to not just make the final roster, but to have a big impact in Turkey as well.
Tyson Chandler
- Coming in, Chandler was a total bubble guy. Now he's not only almost a guarantee, but probably the US's starting center. He's been more aggressive in the paint than anyone else and with Team USA lacking size, Chandler is a perfect piece to set up in the middle to defend the rim. Plus, with FIBA rules allowing players to knock the ball off the rim, Chandler could be an absolute force.
Rajon Rondo
- The problem with Rondo is that he's one dimensional. Westbrook, Rose and Billups can conceivably slide over to the 2, but Rondo is locked into the point guard position. If
David Lee
doesn't get hurt and
Amar'e Stoudemire
were available, Rondo might be on the block. But as of today, it's looking good for Rondo.
The Looking Goods
Kevin Love
- Love has a lot of value to this team because he can rebound, set screens and pass. Plus with the shortened 3-point line, he could be an absolute deadly pick-and-pop candidate. He's not a lock yet because he's hasn't performed especially well so far, but he's likely to make the at least the first cut.
Brook Lopez
- Lopez is currently suffering from mono, so not only does that explain his lackluster performances, but it puts him in jeopardy of missing the games. The US needs his size badly and that's why he still has a great shot at the team.
Russell Westbrook
- In the scrimmage, Westbrook was a menace. He's like a ball-hawking safety that's always looking to jump a route. He's the Ed Reed of the NBA. And because of that, he has a nice shot at the roster as a stopper to come in and frustrate someone like
Ricky Rubio
. Westbrook is a physical guard that beats up a lot of opponents. With the hand-checking rules, Westbrook could get downright nasty.
Stephen Curry
- Team USA needs a shooter and nobody's stroke has been better. Well, other than Durant's. But Curry can play both the point and shooting guard, but his job will be to step on the floor and knock down treys.
Lamar Odom
- Odom is a versatile power forward that can do it all for Team USA. Which is something it needs with the injuries and issues the team has had up front. However, Odom isn't a guarantee at this point because he admittedly came in to Vegas in poor shape and hasn't looked wonderful. But everyone knows what he's capable of so he'll likely be there.
Andre Iguodala
- Iguodala may not make the final cut because of a logjam at the 2 and 3, but he's played well enough to at least get to camp. He's an above average wing defender and fits in well with Team USA's up-tempo approach.
The Maybes
Danny Granger
- Granger has the unfavorable position of being behind Kevin Durant and Rudy Gay. However, Durant and Gay might be spending a healthy amount of time at the 4, meaning Granger could slip in and play small forward. He's shot the ball well and scored at a high clip thus far. He's competing basically against Andre Iguodala and right now, Iguodala's defense gives him a slight edge.
Gerald Wallace
- Thus far, Wallace hasn't impressed much offensively. But really, he rarely does. He makes his mark by playing harder than everyone else, playing defense and just scoring tough buckets. There's a plethora of small forwards on the roster, but having an extra ace defender is never bad. Wallace may make this cut, but he'll be in a battle with Granger and Iguodala for the final 12.
Jeff Green
- Green has been pretty meh so far. His 3-point shot has been inconsistent, he hasn't hit many jumpers and he hasn't rebounded exceptionally well. Yet because of the team's situation, he fits in well. He's versatile, can play multiple positions and can be a very solid offensive player. He might not see quality time, but he's worth having.
The Four on the Block
Eric Gordon
- The US was looking for a shooter to stretch the zone defense international teams love to play a la
Michael Redd
in 2008 and basically, it was a competition between Gordon and Curry. And so far, it looks like Curry has the upper hand. Gordon has shot the ball well, but Curry's stroke is so pure that it's hard to picture it going flat under the pressure in Turkey. Gordon's is a beautiful thing, but a little more inconsistent.
Tyreke Evans
- A tweaked ankle is all that's keeping Evans out. He was likely a lock for this roster, but because of a sore ankle he's missed most the practices plus the scrimmage. For shame.
JaVale McGee
- McGee is a darkhorse just because he's seven feet tall and is a center. Team USA needs that sort of thing badly. But right now, he's just too unpolished to go in front of someone like Kevin Love or Brook Lopez. McGee has shown some encouraging flashes of brilliance, but he's just not ready.
O.J. Mayo
- A player like Mayo is going to undeservedly get left off this roster and it's just because of the supply of backcourt players. Team USA is ultra thin up front, so Coach K and company are more likely to take someone like Gerald Wallace or Jeff Green who can play on the front line than stack another guard onto the already full backcourt.