Posted by
Ben Golliver.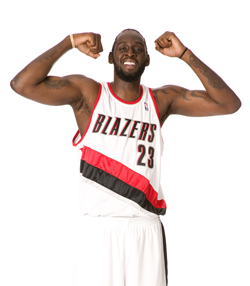 The prosecution thought things through and apparently concluded that bringing a loaded firearm to an airport is, in fact, against the law.
KMOX.com reports
that former NBA player Darius Miles will face a felony charge for allegedly bringing a loaded firearm to a St. Louis airport back in August.
Former NBA player and East St. Louis High School product Darius Miles is facing a weapons charge stemming from a recent incident at Lambert-St. Louis International Airport.

The St. Louis County Prosecutor has charged Miles with one felony count of unlawful use of a weapon. Miles was arrested at Lambert in early August after a Transportation Security Administration screener allegedly found a loaded handgun in his carry-on bag.
According to reports, Miles, 29, was taken into custody following the X-ray screening process revealed the weapon. Handguns may only be transported in checked baggage.
Miles, a lottery pick in the 2000 NBA Draft, played seven seasons in the NBA for the Los Angeles
Clippers
, Cleveland
Cavaliers
, Portland
Trail Blazers
and Memphis
Grizzlies
. Once a high-fllying athlete at forward, chronic knee problems prematurely ended his career.
For the incident, Miles ranked No. 4 on this summer's
NBA Lockout Indiscretion Power Rankings
.