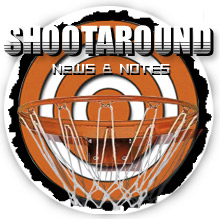 Posted by Royce Young
You guys, the NBA season starts today. How exciting. Just a couple games tonight but they're all wnners. Phoenix vs. Portland, Houston vs. LA and that one team vs. Boston.
Kobe Bryant did a radio interview yesterday and hinted that his first retirement might not stick: "Yeah, I mean, you see so many people and so many players do it, but it's tough to say that you won't go through that. Obviously, everybody does go through that. That's the point where you have your family handcuff you to a chair."
Greg Oden played some 5-on-5 yesterday but admitted he was a little hesitant: "I was worried, but it was fun ... I got my blood moving, it felt good being out there. Coach basically told me 'Don't try and go full-go'. It wasn't like a full blown practice. I was the weak link out there, but I was still out there."
Brian Schmitz of the Orlando Sentinel: "The Heat's recruiting of stars and Pat Riley's ruthless master plan had nothing on the Magic's tactics. The Magic exhausted themselves clearing salary. They knocked themselves out trying to snag Tim Duncan. Greeting a plane in their hangar with Duncan aboard, they erected a huge banner that read, 'GRANT US TIM,' and offered trays of finger-food. Lon Babby then leaned over to John Gabriel and said, 'Tim doesn't eat cold cuts.' The color drained from Gabe's face as he imagined Duncan passing on the snacks -- and the Magic. They frantically dispatched staffers to retrieve burgers for him. It's just a snapshot into the lengths a team will go to win. Your team. Maybe the Magic and their fans shouldn't be so hard on the Heat."
How did Udonis Haslem end back up in Miami? Have a read: "Something that doesn't have a lot of precedent in American sports happened then. Wade called Bosh and asked him to cut $15 million off his salary for Haslem. Wade called James and asked him to do the same. Bosh and James barely knew Haslem. Just a few short conversations here and there. But Wade told them this team needed someone hungry and gritty and unselfish like Haslem, and promised to cut $17 million out of his own contract to make it happen, too."
The Lakers kick off a title defense tonight and Darius Soriano of Forum Blue and Gold warns to be patient: "I bring all this up because this season will be filled with peaks and valleys. Like every other season that we've observed as followers of this team, there will be moments where hope is low and where the frustration spawned from suspect results will dominate the mind. Do not succumb easily to these feelings of doubt. The NBA title will not be decided on Christmas Day or on the Grammy Road Trip. These are just steps in the process and must be separated out from the larger goal at hand. Enjoy the journey and understand, again, that it is a long one. Championships aren't won in a single game during the regular season, but over the long haul the lessons learned from the cumulative will prepare the players (and the fans) for the bigger prize.

"