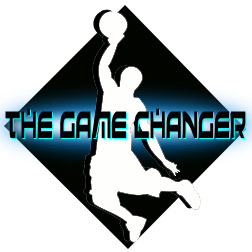 Posted by Matt Moore
Each game is made up of elements which help formulate the outcome. Monday through Friday, we'll bring you the elements from the night before's games in our own specialized version of the game recaps. It's not everything that happened, but it's an insight into what lead to the results you'll see in the box scores. This is
the Game Changer.
THE BIG ONE: IRISH DESCENDENTS UNDONE BY PREHISTORIC ANIMALS
The combination of events that conspired in the
Celtics
' loss to the
Raptors
is pretty stunning. First,
Rajon Rondo
was missing due to injury, meaning the Celtics were without two starters. Then
Andrea Bargnani
had one of those games where he produces, and continues. with 18 at the half, the smart money says he finishes with 22. He finished with 29.
Amir Johnson
managed to not foul out. And in spite of all that, the Celtics were still up one with the ball. But instead of fouling
Ray Allen
, who would obviously drain the free throws, the Raptors managed to knock the ball loose, collect it, and score to take the lead.
And still the Celtics had a shot at it. They first tried inbounding to Ray Allen off a backdoor screen cutting to the corner, but were unable to get the angle, even as
Leandro Barbosa
slipped behind Allen. The Celtics called timeout and instead returned with Allen inbounding. They chose to go to
Paul Pierce
. Pierce rotated around to his sweet spot, the right elbow jumper. But take a look at where Pierce wound up instead: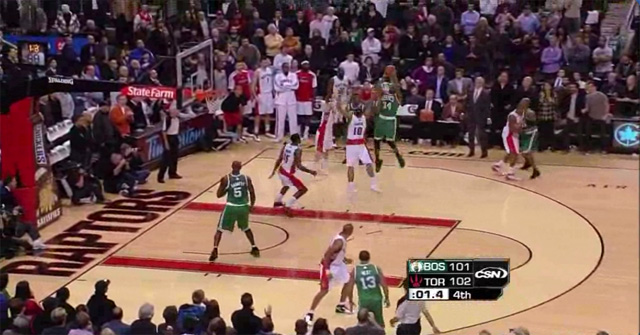 Too deep. Pierce's spot is about two feet to his left. Not to say he can't hit this one, it was good defense and Pierce just missed it. But for him to be in that spot where he almost never misses, he over-drives.
That the Celtics lost this game isn't a huge deal. They were without their best playmaker, on the road, and they're clearly having trouble getting up for games. But they're now a game behind Orlando and only a game and a half in front of Chicago, Miami, and Atlanta. It's early, still, but the problem is that they could be ahead by a comfortable margin if they weren't losing games they have every reason to win.
For the Raps, I'm telling you, this team isn't nearly as bad as it's made out to be.
GO-GO-GADGET LINE OF THE NIGHT:
Pau Gasol
: 28 points, 9 rebounds, 5 assists on 10-10 shooting.
Runner-Up:
Gilbert Arenas
, 19 points, 16 assists, 4 rebounds.
MAY YOU NEVER WATCH THAT DEBACLE AGAIN:
Neither the Hornets nor Kings shot over 39% from the field last night in a gross 75-71 game. It was neither entertaining, nor appreciably well played. The rare combination of ugly and lazy.

FINAL THOUGHTS:
The
Lakers
, when motivated, are really, really good. The end.