Posted by Tom Fornelli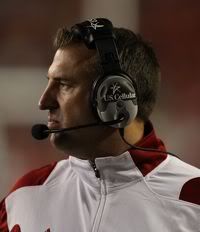 Wisconsin
sent a message last Saturday night when they welcomed the top-ranked
Ohio State
Buckeyes to Madison and proceeded to shove a football down their collective throat for 60 minutes, winning the game 31-18. It was an exhibition of what Wisconsin does best, and has always done best. Take a big running back, throw as many blockers as you can in front of him, and then pound the defense into submission. When that defense starts to get tired, hit them with a play-action pass.
Some would call this style of play smashmouth, or three yards and a cloud of dust. Not
Bret Bielema,
though. No, he has
a name for this style of play that's a bit more patriotic.
"We do. We call it American football around here. Two tight ends, two backs, one wide receiver and occasionally get two wide receivers on the field, but it was [a message]. … What we do 365 days a year came through on Saturday. Our kids really imposed their will and it was really fun to watch."
Yeah, this is
American
football. It's blue collar. It's not that fancy-pants French football where you spread out five wide receivers and dink and dunk your way to the end zone before retreating to the sideline.
Though, there are some parts of Wisconsin's offense that don't remind me all that much of America to be honest. First of all,
David Gilreath
returned the opening kickoff for a touchdown, so it was 7-0 before Wisconsin's American offense ever took the field. Which means that this American offense never operated with a deficit, and that doesn't sound all that American to me.
Plus, and this one is the most important, last I checked, none of the players on Wisconsin's offense are Chinese. Since when do Americans manufacture their own points?