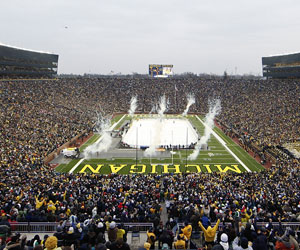 The NHL will make a major announcement on Thursday at 10:30 a.m. at Detroit's Comerica Park. It will then make a second announcement at 1:15 at Michigan Stadium in Ann Arbor.
Because we are really good with the power of deduction, we have a pretty good guess as to what this is all about: probably something along the lines of a Winter Classic at the Big House.
Petty sarcasm aside, there's no doubt now that the league is going to make next year's Winter Classic official, pitting the Detroit Red Wings against the Toronto Maple Leafs on the campus of the University of Michigan.
The school's Board of Regents signed off on the deal this week to allow the NHL to move in for a little while. Here's more from ESPN.com.
The NHL is offering to pay $3 million to the university for the licensing of the stadium, and the university would give the NHL use of Michigan Stadium from Dec. 1, 2012 until mid-January 2013 -- including time for all potential set-up and breakdown scenarios.
The dual announcement is being done because it has been previously reported that to help bring the festivities to Detroit and appease Wings owner Mike Illitch, Comerica Park, home to the MLB's Tigers, will also host some of the events.
Specifically, the second rink in Detroit will host the majority of the action accroding to the Macomb Daily.
Comerica Park will host an American Hockey League game between the Grand Rapids Griffins and Toronto Marlies, the minor league affiliates of the Wings and Leafs.

It will also be the site of the Great Lakes Invitational, along with two Ontario Hockey League games and numerous high school and youth games.

Michigan and Michigan State will be two of the GLI teams. Three OHL teams – the Plymouth Whalers, Saginaw Spirit and Windsor Spitfires – have already been confirmed.

Comerica could also host the alumni game between the Wings and Leafs.
Hockey at the Big House has been done before. Michigan played Michigan State a few years back and drew over 100,000 for the game. A similar crowd can no doubt be expected with the Leafs and Wings bringing their Original Six flavor and their big fan bases to campus.
For more hockey news, rumors and analysis, follow @EyeOnHockey and @BrianStubitsNHL on Twitter.