Posted by Chip Patterson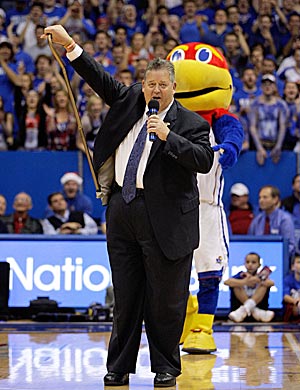 Former
Kansas
quarterback
Brock Berglund
has faced a long legal journey to get back on the playing field, and now is one step closer to that goal after receiving an official release from his scholarship agreement with Kansas.
Berglund was one six Jayhawks dismissed on Dec. 16,
reportedly for missing a mandatory team meeting
. The sophomore quarterback spent most of the 2011 season dealing with assault charges,
which were recently dropped
, in his home state of Colorado. Berglund told local media he had hoped to re-join the Jayhawks, but the actions and attitude of Charlie Weis and the staff -
Berglund said he found out about his dismissal on Twitter
- have led him to seek other opportunities.
On Friday, Kansas issued an official release regarding Berglund's status with the school.
"Today, Brock Berglund is released from his scholarship at KU to pursue other opportunities," head coach Charlie Weis said in a prepared statement. "Brock and his representatives have publicly stated their case without any public response from me to this point. Brock spent the majority of the past calendar year in Colorado taking online courses at KU's expense, which was nearly $40,000. At no time was Brock an active participant of the football team. Once competition was recruited at the quarterback position, Brock decided he no longer wanted to be a part of the team. He was expected to show up for a mandatory team meeting on Sunday, Jan. 15, but he sent an email less than two hours before the meeting to inform us that he had decided to transfer and would not be attending the meeting. He was dismissed after following through on that promise."
Weis' defense of his actions continues:
"Although Brock has been granted his release, I only wish that he had showed the same courtesy that other players showed and came to talk to me. He decided that he did not have to follow the same protocol as the other departing members of the football team. I believe no individual should be more important than the team. Brock did not see it that way."
It is time that both sides wash their hands and move on, but Weis did make sure he got in the last word. That "recruited competition" Weis mentions in the statement refers to former
Notre Dame
quarterback
Dayne Crist
and former
BYU
quarterback
Jake Heaps
, both enrolled this semester at Kansas.
Berglund, a nationally ranked dual-threat quarterback in the 2011 class, flipped his commitment from
Colorado
to Kansas after
Dan Hawkins
' dismissal. This is not a huge blow to the Jayhawks' depth at the position, and his relationship with the new staff obviously did not get off to a great start.
CBSSports.com's Dennis Dodd writes that Charlie Weis has people mentioning Kansas football. For better or worse, at least they are talking. Column
Keep up with the latest college football news from around the country. From the opening kick of the year all the way through the offseason, CBSSports.com has you covered with this daily newsletter. View a preview.
Get CBSSports.com College Football updates on Facebook