By the Eye on College Football bloggers

To celebrate the (now fewer than) 100 days remaining until the first Saturday of the new college football season, this is the CBSSports.com College Football 100: our countdown of the 2011 season's 100 most influential players, coaches, administrators, venues, or any other related things in college football. It's like that other "most influential" list, but, you know, more important. Also: it's supposed to be fun.

We're now down to the nitty-gritty: Nos. 20-11 below, 10-3 tomorrow, then No. 2 Thursday and our No. 1 unveiled Friday. Stay tuned.


20. OLIVER LUCK, athletic director, West Virginia.
Luck's influence on college football is two-fold. The first (and most important) has been his effect as the athletic director of West Virginia. Recently, his role as the face of this athletic department has become much more challenging due to the ongoing
Bill Stewart/Dana Holgorsen
soap opera. In the next few weeks, Luck will have to clean up a he-said/she-said that could end up defining West Virginia football -- and the entire "coach-in-waiting" strategy -- significantly for the near future. If Luck decides that Stewart was trying to convince reporters to dig up dirt on Holgorsen after his hiring in December, he may be faced with the decision of promoting Holgorsen early or -- as some have suggested i- bringing in an entirely new head coach. Somehow, Luck will have to find a way to juggle all of this responsibility while instituting the first year of beer sales at West Virginia athletic events. Despite a negative reaction from many fans, Luck is convinced that the selling beer at the games is going to be the best way to discourage binge drinking before the games and at halftime. It is not entirely uncommon for schools to make this decision, but the logic is often difficult to explain to fans who disapprove of alcohol at college events entirely.
Oliver is also the father of
Stanford
quarterback
Andrew Luck.
The overwhelming favorite to be the No. 1 pick in the 2012
NFL Draft,
Luck shocked the professional ranks with his decision to return to Stanford for (at least) another season. His return shakes up the entire
Pac-12
race, and with
Terrelle Pryor's
off-field issues has made him the frontrunner for next year's Heisman Trophy. The decision for a college player to come back almost always is a family one, and while the elder Luck has kept himself out of his son's affairs for the most part, his influence on Andrew's decision has no doubt changed the football landscape for next season. --
CP
19. THE NFL LOCKOUT, potential season-dissolver, NFL.
Think the NFL lockout isn't hugely important to the college game? Watch what happens if/when college games are the only games in town. Watch what happens when all the "Monday morning quarterbacks" are still talking about Saturday instead of Sunday. The fact is that college football is uniquely positioned to siphon tens of millions of football fans from the NFL, even if it's just on a temporary basis. And unlike college basketball and the
NBA,
where the pro version is a vastly superior product to the amateur version (sorry, but it's true), college football can be every bit as enjoyable as the NFL.
Of course, the lockout situation is still fluid, and there's certainly a possibility that pro football will be "back" well before the college football season starts. And yet, the antitrust lawsuit filed by
Tom Brady
and friends has a hearing that's scheduled for September 12... four days after the NFL's regular season is supposed to start. The NFL is gearing up for a long work stoppage; college football teams should take full advantage. That means courting the newly disenfranchised fans and filling as many stadiums as possible with them,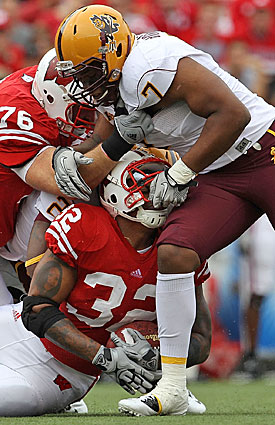 even if it means dropping ticket prices. That means openly promoting celebrating the fact that college football is never going anywhere, never relocating to another city 1,000 miles away, never locking players out and threatening to cancel a season, and never treating fans half as poorly as the NFL is treating its own right now. --
AJ
18. VONTAZE BURFICT, linebacker/eater of souls, Arizona State.
Burfict has developed a bit of a reputation for being a cheap shot artist. It's not exactly an unfair label, as any search of his name on YouTube will provide the evidence of his work. Yet, having a linebacker on your defense that plays with a chip on his shoulder isn't exactly a bad thing, especially when that chip complements the heap of talent that comes with it. Through his first two seasons with the Sun Devils, Burfict has made 151 tackles, leading Arizona State with 90 last season.
Entering the season, Arizona State seems to be a trendy pick in a lot of preseason top-25 polls, and Burfict is one of the reasons why. (Our colleague Dennis Dodd named him
the national Preseason Defensive Player of the Year.)
While Arizona State's defense was middle of the Pac last season, the rush defense was third best in the conference, and an even better Burfict could make for even better numbers this season. If the Sun Devils are going to live up to the preseason and make some real noise in the Pac-12, the defense is going to have to do its part. And that defense will be led by Vontaze Burfict. --
TF
17. BUTCH DAVIS, head coach, North Carolina.
When Davis arrived in Chapel Hill, his charge was to make North Carolina football relevant on a national level. In 2010 North Carolina football has had as many headlines as all the perennial powers--just for many of the wrong reasons. In a year that has been filled with NCAA-related scandal, the Tar Heels are preparing to finally wrap up an investigation on impermissible benefits and academic impropriety that began last summer with
Marvin Austin
and
Greg Little.
Throughout this entire process, Davis has remained steady and confident in his team and his job. One year later, Davis has dodged all of the attacks and still stands as the head coach in Chapel Hill.
But despite promises to right the culture of wrongdoing, Davis continues to catch criticism for his ignorance. Defensive lineman
Quintin Coples
is already a topic of interest after being spotted at a DC-based NFL Draft Party. Considering the "sign-out sheet" that was going to help keep tabs on players, Coples' misstep in judgement reflects poorly on Davis and the program leadership.
But unlike other head coaches in charge of troubled programs, there has been no hard evidence to show any kind of cover-up by Davis. When a player's eligibility has been put in question, the school has pulled the player from the active roster and relied on a "next man up" mentality until NCAA clearance. Not only have Davis and athletic director
Dick Baddour
been cooperative with the NCAA, but North Carolina won their first bowl game since 2001. With no hard evidence yet to surface, Butch Davis continues to avoid the pressures of investigation with ignorance and wins. As long as both factors continue, Davis will be on the sideline in Chapel Hill. --
CP
16. JIM DELANY, commissioner, Big Ten.
The man who stands atop college football's most prosperous conference is back again, and he's got quite a production to unveil this year. The new-look Big Ten has a slew of changes, and all of them--from newcomer
Nebraska
to the newly named trophies and division names--have Delany's fingerprints all over them. As such, the success or failure of these changes are going to be laid directly at Delany's feet, for better or worse. We're banking on "better."
More CFB 100
Related Links
So why is he only 16th on this list? Because when push came to shove and
Ohio State
(Delany's flagship football program) started to melt down in the wake of
Jim Tressel's
transgressions, Delany was nowhere to be found. Sure, he held a teleconference last Sunday, after Tressel was already gone, but remember that it took five months for the Ohio State brass to go from "notified of Tressel's problem" to encouraging him to resign. If Delany was truly upset about what happened in Columbus, shouldn't he have at least put a little public pressure on OSU to move on? Yes, Ohio State should be encouraged to deal with its own problems, but this is the conference of Legends and Leaders, right? Do those names actually stand for anything, or are they just meaningless labels? And if they do stand for something, shouldn't the commissioner enforce them a little more actively than Delany did with OSU? --
AJ
15. MACK BROWN, head coach, Texas.
Since becoming the head coach in Austin in 1998, Brown's teams have gone 133-34, won a national title, and earned two
Big 12
championships and six division championships. Brown has won the Bear Bryant Award, Bobby Dodd Coach of the Year Award, and has been the Big 12 coach of the year twice. That's a lot of notches in the belt, but those accolades don't mean much in Austin right now, as a lot of Longhorns fans can't see past 5-7, Texas' record last season. It's hard to believe that a coach who has had as much success at Texas as Brown has could be considered on the hot seat, but if Brown doesn't turn things around this season, he will be.
Brown made the changes he felt were needed after 2010, firing
Greg Davis
and hiring
Bryan Harsin,
but he also lost the man who was supposed to replace Brown himself,
Will Muschamp,
to
Florida.
So in 2011 Brown will not only have to lead Texas back to its winning ways, but do so with two new coordinators. If he can, Texas will be back in the national title picture. If not, there may even be a job opening in Austin this winter--one that would have a seismic impact on the rest of the college football world. --
TF
14. RUSSELL WILSON, quarterback, free agent.
Wilson is worth paying attention to, first and foremost, because he's a quality quarterback whose addition could single-handedly change the fortunes of whatever team he happens to join. But his situation is also worth watching because -- like some sort of sci-fi superhero experiment -- Wilson is the first and possibly last of his kind. Never before has a player of Wilson's impeccable on- and off-field credentials been available as a no-strings-attached, one-year free agent. And judging by the
SEC's
decision last week to eliminate single-season transfers like Wilson's and
Jeremiah Masoli's,
one may never be available again.
That alone makes Wilson one of the year's biggest stories. But the impact he makes on the field could be just as key. Wilson has already visited
Auburn
(reportedly) and is due to visit
Wisconsin
soon (reportedly). Given the ample (if unproven) offensive talent that would surround Wilson in either location, both teams would suddenly see their expectations rise another rung up the ladder and would become dramatically more dangerous threats to the favorites in their respective divisions. Wilson's free agent adventure might still come to nothing (returning to football from the minor leagues means giving back a huge portion of his
Colorado Rockies
signing bonus), but until it reaches its conclusion, we're going to be riveted all the same. --
JH
13. TRENT RICHARDSON, running back, Alabama.
There's no polite way to say it, so we'll just say it: the state of Alabama has dominated the sport of college football for the past two years. Each of the last two Heisman Trophies are sitting in Cotton State trophy cases. They just happen to be a stone's throw away from each of the last two BCS championship trophies, also in those same cases. In 2009, Alabama gave us the sport's most complete, dominant defense in years. In 2010, Auburn gave us the sport's most dynamic, polarizing player in years. So what are they going to do for an encore?
Thanks to Trent Richardson, they might just make it three-for-three on both the BCS title
and
Heisman Trophy fronts. Even as
Mark Ingram
took home the famous stiff-armer in 2009, Richardson was bullying his way into the backfield (as a true freshman) all the same; he finished the season with 144 carries, many of them coming in critical situations in the season-saving comeback against Auburn and the national title tilt against Texas (where he topped the 100-yard mark). After a productive 2010, Richardson now has the starter's job to himself, one of the best offensive lines in the country opening holes for him, and a defense on the other side of the ball that could be the equals of 2009 (and should give Richardson ample opportunity to close out nationally-televised wins). Deja vu all over again, for both Alabama the team, and Alabama the state? Definitely possible ... and possibly even likely. --
JH
12. CHIP KELLY, head coach, Oregon.
Chip Kelly hasn't been a head coach for long but he's already accomplished quite a bit. He's taken a program with only recent success and turned the Ducks into the Pac-12's flagship program after a couple of off-years from
USC.
With back-to-back BCS bowls under his belt and a high flying offense that he gets the lion's share of credit for, it's no wonder he was recognized by
Fast Company
and several other organizations for his creativity and genius on and off the football field.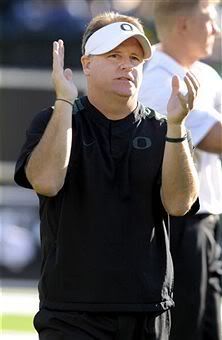 2011 will put Kelly's coaching abilities to the test, though, as the Ducks look to finish what they couldn't last season. Oregon has to replace several starters along the offensive and defensive lines but returns starting quarterback
Darron Thomas
and Heisman Trophy finalist
LaMichael James
at running back. This will be the first year for the Pac-12 and Kelly would like nothing more than to have his name on the inaugural trophy. His reputation has taken a hit this offseason after allegations regarding payments to
Will Lyles
for his scouting service, and the head coach would like nothing more than to put those things behind them--with the same quickness with which Kelly attacks everything he does. --
BF
11. MARK EMMERT, president, NCAA.
Since taking over less than a year ago as the NCAA's new president, Mark Emmert has barely had time to catch his breath. He walked right into a widening agent scandal at North Carolina, had to deal with the fallout from the severe sanctions at USC, and handled the controversial reinstatement cases involving Kentucky basketball's
Enes Kanter
and eventual Heisman Trophy winner
Cam Newton.
Needless to say, Emmert has had a lot on his plate ... and that's not even getting to the mess at Ohio State.
Emmert has been criss-crossing the country lately, meeting with administrators, student-athletes and others to get a sense of what is going on in college athletics since he took over. He has a big year upcoming as he looks to finally make an imprint with a new NCAA legislative cycle. Emmert has constantly said the organization won't pay athletes under his watch but he has talked with the SEC, Pac-12, Big Ten and others about full cost of attendance scholarships, so that could be a significant push he makes this year. On top of that, he'll have to deal with an inquiry from the
Department of Justice
into why the organization doesn't run an FBS football playoff. With all that is on his plate, Emmert will continue to have a regular presence in the headlines. --
BFThe 100 will continue here on Eye on CFB tomorrow
.
Until then, check out Nos. 100-91, 90-81, 80-71, 70-61, 60-51, 50-41, 40-31 and 30-21. You can also keep up with the 100 by following us on Twitter.