Posted by Chip Patterson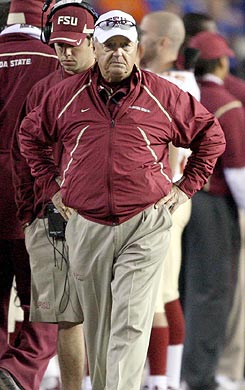 Former
Florida State
head coach
Bobby Bowden
has been named the recipient of the
2012 Football Bowl Association Champions Award
, given to an individual from the Football Bowl Association who "has provide distinguished service to college football, with an emphasis on being a contributor to post-season football bowl games."
The Football Bowl Association (FBA) is made up of the 35 licensed bowl games. Last year's recipient was former BYU head coach
LaVell Edwards
, other past recipients include former Pac-10 commissioner
Tom Hansen
and SEC commissioner
Roy Kramer
.
The longtime Seminoles head coach will be honored during an on-field presentation at Monday's BCS National Championship Game. Bowden retired in 2009 as college football's second winningest FBS coach with a record of 377-129-4. Florida State competed in 28-straight bowl games with Bowden at the helm from 1982 through 2009. From 1987 to 2000, his teams finished every season with an AP Top 5 ranking and at least 10 wins.
In September,
Bowden revealed an ongoing battle with prostate cancer that he kept secret for four years
. Since his announcement, the former head coach has become a prominent spokesperson for
On The Line
, a national cancer education initiative.
For last minute updates on both LSU and Alabama as well as keys to the game, check out our BCS National Championship Pregame
Keep up with the latest college football news from around the country. From the regular season all the way through the bowl games, CBSSports.com has you covered with this daily newsletter. View a preview. Like us? Tell our Facebook page.