Posted by Tom Fornelli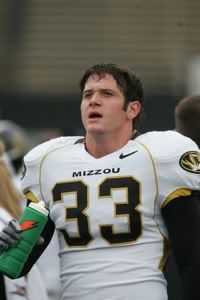 Missouri
is currently ranked 11th in the first BCS standings of the season and is getting ready for their biggest test of the year when the top-ranked
Oklahoma
Sooners come to town on Saturday. If the Tigers can pull off an upset of Oklahoma and improve to 7-0, that's when skeptics like me will wake up and say, "Okay! This team is legit."
Of course, knocking off Oklahoma won't be easy, and that task got a bit harder with the news that starting linebacker
Luke Lambert
is going to miss the game -- along with the
Nebraska
game in two weeks -- with a sprained knee he suffered in the win over
Texas A&M.
"He's really playing well,"
said head coach Gary Pinkel.
"He actually played through it in the fourth quarter. He's had a tough road here. He's had his share of injuries. But he'll battle back and we'll get him back, hopefully, in a couple of weeks."
The senior co-captain missed three games earlier this season thanks to a hamstring injury he suffered in the opener against
Illinois.
There is some possible good news for the Tigers, however, as they may get another injured starter on defense back on Saturday. Defensive end
Aldon Smith
has been cleared to play after fracturing his right tibula against
San Diego State
on September 18. Though that doesn't mean he's going to be on the field against Oklahoma.
Smith, who led the Tigers in sacks last season, is not on the depth chart yet and Pinkel said how Smith performs in practice this week will go a long way in determining whether he plays or not. Pinkel also said that the final decision will come from Smith and the school's medical staff. Having him on the field would be a big help in trying to stop an Oklahoma offense that is averaging 303 yards a game through the air, the 12th-best passing attack in the country.