Posted by Bryan Fischer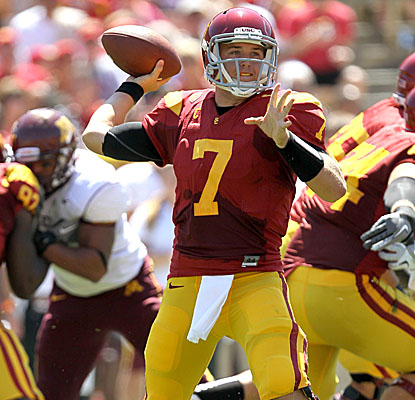 USC WON.
Barely. The Trojans held on to dear life after getting shut down on offense in the second half but still managed to beat
Minnesota
for the second straight year, 19-17 at the Coliseum. USC looked like they were going to roll early on after taking a 19-3 lead into the locker room but the offense sputtered and the defense was just average late. It wasn't pretty, but a win is a win.
WHY USC WON:
Robert Woods
and
Matt Barkley
. Head coach
Lane Kiffin
said after the game that the offense had only two good players right now and that was in reference to the dynamic duo that hooked up early and often at the Coliseum. Woods caught a school-record 17 passes for 177 yards, including three touchdowns in the first half. Barkley also set a USC-record with 34 completions for 304 yards.
WHEN USC WON:
This game felt like the Trojans were going to win going away based on the first half but new Gophers head coach
Jerry Kill
made some terrific halftime adjustments to give his team a shot to win it at the end. Thanks to two missed two point conversions early in the game, quarterback
Max Shortell
had the ball in his hands but threw an interception to USC cornerback
Torin Harris
to seal the Trojan victory in the final minute.
WHAT USC WON:
A game, that's about it. It certainly wasn't a good one but if there's one take away for the coaching staff, it's that they shored up their two-minute defense a little. After bending
and
breaking at the end of games in 2010, it appears the 2011 edition is a bit better equipped to handle a pressure situation. The defensive line was active but trailed off and managed to record only two sacks on the day. The victory over Minnesota won't inspire much confidence as USC takes on
Utah
next week but getting a key stop in the 4th quarter is somewhat encouraging.
WHAT MINNESOTA LOST:
Jerry Kill's debut. Though his first game as coach ended with a loss, there was a lot of good signs that he'll eventually right the ship. He lost a first-time starter at quarterback in
MarQueis Gray
to cramps in the 3rd quarter and brought in a true freshman in Shortell, who almost pulled off an upset. The defense adjusted well and, despite allowing a record-setting day to Woods and Barkley, did a good job of holding USC's offense to just 100 yards rushing. It might take some time but Minnesota fans have to be excited about how hard Kill's team competed.
THAT WAS CRAZY:
The Trojans attempted two, two-point conversions out of the swinging-gate formation and didn't come close either time. When the team finally lined up to kick an extra point, the Coliseum crowd gave a loud Bronx-cheer for Kiffin.