Posted by Chip Patterson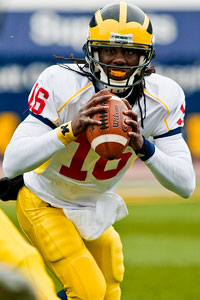 No one seemed to be surprised when
Denard Robinson
was
named the starting quarterback
for
Michigan's
season opener against
Connecticut
. With the first quarter coming to a close, it's safe to say that everyone agrees with Rich Rod.
Michigan closed the first quarter up 14-0 on the back, or shoes, of Denard Robinson's 105 yards rushing - including a 32 yard touchdown run near the end of the quarter. Robinson is also 4/4 for 44 yards through the air, but there is no doubt that the Wolverines most dangerous weapon this season will be Robinson on the ground.
Fans have quickly taken a liking to Robinson, wearing t-shirts referring to him as "Shoelaces" -- a reference to Robinson's distaste for tied shoes. According to the coaching staff, how he laces up his kicks doesn't matter as long as it doesn't effect the sophomore's reported 4.3 40-yard dash.
Has to be a good feeling for head coach
Rich Rodriguez
, who arguably is on the hottest seat in the nation. With Robinson under center, the Wolverines should be able to reverse the losing of late uncharacteristic to the program.