Posted by Tom Fornelli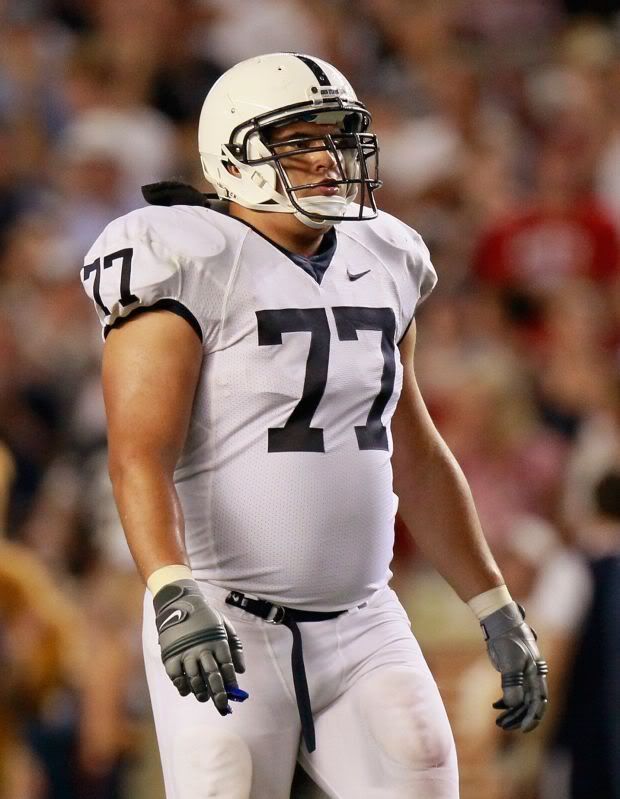 Following it's narrow escape against
Temple
at home on Saturday, I wrote about the struggles that
Penn State has been having on offense
all season. It's no one area of the offense's fault, though it would be a lot easier for the Nittany Lions to put some touchdowns on the board if the offensive line could begin opening holes for
Evan Royster
on a regular basis.
Something the line started to do against Temple, as Royster finished the game with 110 yards -- his first 100 yard rushing day of the season.
Well, just as the line started to find some rhythmn, it's taken a hit. Reports out of State College say that Penn State is going to be
without starting right tackle Lou Eliades for the rest of the season.

Coach Joe Paterno said Eliades suffered a torn right ACL in the third quarter of Penn State's 22-13 victory against Temple on Saturday. Junior Chima Okoli replaced Eliades, but Paterno wouldn't name a starter for next week's Big Ten opener at Iowa. Also, coaches used Mike Farrell as an occasional replacement for Quinn Barham at left tackle. Penn State came into the season with no offensive lineman in the same position he played last year.
Whoever replaces Eliades, they won't have an easy assignment on Saturday. "Hey, welcome to the starting lineup kid, now go out there and block
Adrian Clayborn, Broderick Binns
and any other monsters Iowa throws out there on its defensive line
.
"
Having some concern on an offensive line that just started playing well together is always going to be a problem, but when the timing coincides with the start of conference play for Penn State, it's magnified a bit. Especially when the game is being played at Kinnick Stadium, a place that has already been hard enough for Penn State to pick up a win.