Posted by Adam Jacobi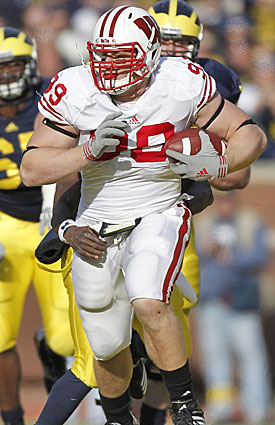 1. Wisconsin fans shouldn't necessarily buy tickets to Pasadena, but they should at least be pricing them. We're sure that Badger fans weren't terribly excited to see their nemeses in East Lansing complete the comeback today, leaving the Big Ten title picture still in some measure of doubt, but Ohio State 's own comeback against Iowa later that day means that barring a sensational boost in the BCS rankings for the Buckeyes, Wisconsin is one win away from the Rose Bowl. Considering Northwestern -- the Badgers' last opponent -- clearly misses injured QB Dan Persa and struggles to stop the run, the likelihood of an upset at Camp Randall seems slim. Famous last words, yes, but still.
2. Don't mention fourth quarters to Iowa fans for a while. Or do if you want to anger them. In the Hawkeyes' game against Ohio State, the Buckeyes weathered Iowa's defense for three quarters before making a heroic drive in the last few minutes of the game to take the lead and win. For the Iowa fans, it was a broken record that desperately needs to stop; in each of Iowa's four losses, the vaunted Iowa defense has given up a go-ahead touchdown with less than five minutes on the clock, at which point the Iowa offense has failed to answer under pressure. In fact, Iowa would have five losses of that exact nature if Indiana wideout Damario Belcher hadn't dropped an easy fourth-down touchdown two weeks ago. It's to the point where "small sample size" just doesn't work as an excuse anymore: the Iowa defense clearly doesn't have the juice to play for 60 minutes, and that painful fact has snuffed out the high hopes of the Hawkeye faithful in Iowa City.
3. The Spartans might not be going to the Rose Bowl, but their season's pretty special anyway. Barring an Ohio State loss to Michigan next week, Michigan State will not be going to Pasadena; the fact that MSU and OSU didn't play each other this season means that their tiebreaker would be BCS ranking, and OSU was already comfortably ahead of the Spartans even before OSU took down a ranked Iowa team while MSU struggled with very-not-ranked Purdue. Michigan State's season-ender at Penn State isn't a gimme, but even if the Spartans lose, this is still just the third time in program history that MSU has hit 10 wins on a season (1965, 1999). The Spartans have never won 11 games in a season, and they have two opportunities to do that now.
The accomplishment isn't that much of a stunner, as the Spartans looked on paper to be at worst a darkhorse contender for the league title. It's just, well, they barely ever do this, so it was hard not to wonder how MSU would screw it all up this year. But credit Mark Dantonio and his staff for keeping the team on track, even through Dantonio's heart attack and other off-field problems, and en route to its best Big Ten record its best conference record in at least 11 (and maybe 45) years.
4. Okay, so football at Wrigley can be pretty cool -- even if one of the end zones is sort of a death trap. The Big Ten got it right when it forbade Illinois and Northwestern to run offensive series toward that now-infamous east end zone at Wrigley, and when Northwestern defensive back Brian Peters took an interception to the house, he had to be tackled by teammates before hitting that wall. No, he wasn't three yards away from certain doom, and the tackle by his pals was also nice and celebratory, but still: he was only about three or four yards away from impact before being taken down as he slowed from his sprint. Running offensive plays (like fade routes) toward that wall would have been just begging for injuries -- and lawsuits.
But past that, the fans in attendance got to see a special occasion, even if Illinois absolutely worked the Wildcats. Wrigley Field is one of the most hallowed sports arenas, and to see its famed scoreboard used to show Big Ten football scores and its marquee painted purple must have been a thrill for Northwestern and Big Ten fans in Chicago. Ron Zook said he'd "absolutely" have his team play there again, and Pat Fitzgerald was equally effusive in his praise of the event. Should the two teams play their rivalry game there every year? Well, that seems like an abuse of the novelty of it all, but have you ever actually seen Memorial Stadium or Ryan Field? Not exactly cathedrals of the sport, those. It might -- just might -- be worth keeping Wrigley on the table going forward.