Posted by Tom Fornelli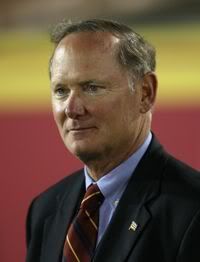 The Pac-10 still has a lot of details to work out for the 2011 season when both
Colorado
and
Utah
will join the conference. Really, all we know for sure about the new Pac-10 is that its going to have a conference championship game, 12 teams and two divisions. Where that conference championship game will be held, or who will be in those divisions, we don't know.
Thanks to
USC
athletic director,
Pat Haden,
however, we're beginning to at least get an idea of what the divisions will look like. The conference athletic directors got together for a meeting last week in which they discussed these matters, and one of the divisional suggestions passed by a 7-to-5 vote. Though that doesn't mean it will be put into effect.
The plan is to break the conference up between north and south, but that creates a problem for schools in
Washington
and
Oregon
who need to keep an imprint in the state of California for recruiting purposes. So a bit of a compromise has been struck. Both
Cal
and
Stanford
would be placed in the North Division, while the two newcomers to the conference will head south.
Which means the Pac-10 would look like this.
North
Cal
Oregon
Oregon State
Stanford
Washington
Washington State
South
Arizona
Arizona State
Colorado
UCLA
USC
Utah
Which makes a lot of sense, but Haden isn't really all that thrilled with the idea. He's worried for his life, apparently.
"I told them my alumni will kill me if we don't play the Northern California schools and have the weekender every year," said Haden.
"I proposed a 5-2-2 model that has us playing the five schools (UCLA, AZ schools and Co/Ut) every year and then have the Northern California schools as part of our regular 2 and then rotate the other two. We need to play Stanford and Cal."
Which doesn't seem all that unreasonable. If the conference is willing to put Stanford and Cal up north so the Oregon and Washington schools can maintain a presence in the state of California, then I don't see why it can't give USC protected rivalries with Cal and Stanford as well. The problem might come if
UCLA
asks for the same thing, because then the other four north schools may only get one game in southern California every six years or so.
The final vote will come later this month.