Posted by Tom Fornelli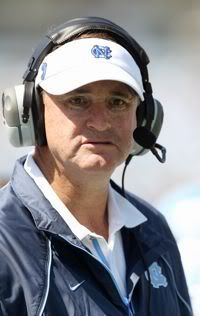 A rumor broke out on some
North Carolina
message boards that the North Carolina systems Board of Governors (the one that governs all of the UNC campuses, not just Chapel Hill's) had instructed North Carolina chancellor
Holden Thorp
to fire head coach
Butch Davis.
A rumor that, considering everything that's been going on with the North Carolina program, isn't hard to believe.
But don't, because according to the board's chairwoman
Hannah Gage,
it's not true.
"None of that happened. None, none, none," Gage
told the Raleigh News & Observer .
"I can assure that none of that happened. That hasn't been part of any discussion we've had."
Which makes sense seeing as the UNC system Board of Governors doesn't really involve itself with the athletics programs of the UNC schools, leaving those decisions to the individual schools.
Of course, considering everything that has taken place in Chapel Hill since Butch Davis took over the program, I can assure you that this won't be the last rumor you hear about him being canned. Eventually, one of them will be true.