Posted by Tom Fornelli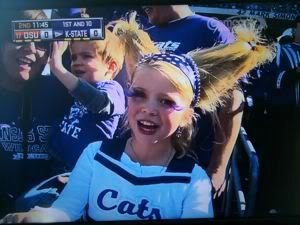 When you think about
Kansas State
and
Oklahoma State
this season, you don't tend to think about either team's defense. Both teams rank in the bottom half of the FBS in scoring defense, while the Cowboys are second-best in the country scoring 48.3 points per game. The Wildcats aren't nearly that high, but 33.9 points a game is good enough for 29th nationally.
Still, it appears that both teams have decided to dress up as defensive powerhouses for Halloween this season.
It's halftime in Manhattan and the score is tied at 7-7, with the first touchdown not coming until
William Powell
scored from 8 yards out to give Kansas State a 7-0 lead halfway through the second quarter. Oklahoma State didn't join them there until the final minute of the half when
Brandon Weeden
hit
Michael Harrison
for a 15-yard score to tie it up.
Now, seeing Oklahoma State struggle on offense without
Justin Blackmon
wouldn't be that surprising, but the truth is, though they haven't managed to score much, the Cowboys are moving the ball pretty well. Oklahoma State has 286 yards of offense in the first thirty minutes, but two turnovers have killed a couple of drives.
Meanwhile, Kansas State hasn't turned the ball over at all, but have killed themselves with penalties on offense. The Wildcats have held on to the ball for over 17 minutes, yet only managed 136 yards of offense.
In other words, it hasn't been pretty for either team, but hopefully the second half will prove to be a bit more entertaining than the first.