Posted by Tom Fornelli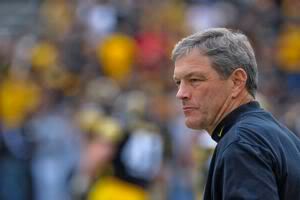 On Saturday the
Iowa
Hawkeyes lost at home to the
Wisconsin
Badgers, meaning that if Iowa is going to win the Big Ten and get to the Rose Bowl this season, it's going to need help. What made the loss sting a bit more, however, were a couple of crucial mistakes the Hawkeyes made in the fourth quarter. The biggest one being deciding to call a timeout with 12 seconds left in the game rather than spiking the ball to stop the clock and give the Hawkeyes the chance to run another play before setting up for a possible game-winning field goal.
Instead
Ricky Stanzi
was hurried into throwing a shovel pass to
Adam Robinson,
who was tackled in bounds, and without that timeout available, the clock expired. Just in case you were inclined to blame either Stanzi or Robinson for the mishap,
Kirk Ferentz
wanted to make it clear on Tuesday that it was his fault, not his players.
"In retrospect, I wish we would've clocked it quite frankly,"
Ferentz said during his weekly press conference
. "I wish I had done it over, could do over. I can't. So, live with it. Cost us one play."
Kind of cost you more than a play, coach. It also cost you a victory.
Of course, that wasn't the only play Ferentz wished he could have back. During the fourth quarter Wisconsin showed some onions when they ran a fake punt on fourth down at its own 26-yard line. Punter
Brad Nortman
took off for 17 yards and a first down, extending a drive that would lead to the game-winning touchdown. Ferentz also said that could he do it over again, he would have called for punt safe instead of dropping everybody back to block for the return.
I do get the feeling that should Iowa beat
Michigan State
this Saturday, those regrets will be forgotten.