Posted by Jerry Hinnen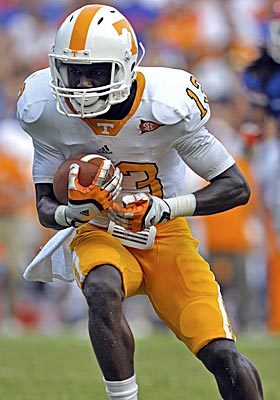 DeAnthony Arnett's
search to find a new football-playing home
is going to have a happy ending.
The true freshman
Tennessee
receiver and Saginaw (Mich.) native
was initially being denied an unconditional release
by
Derek Dooley
last week, one that would prevent him from playing on scholarship for either of his preferred programs --
Michigan
or
Michigan State
-- despite his father's ill health. But Tuesday
Dooley relented
, and Wednesday evening
multiple
reports
made it official: Arnett will transfer to play for
Mark Dantonio's
Spartans, and per his brother (and the
Knoxville News-Sentinel)
will be enrolled in classes in East Lansing next week.
Because of his father's health complications, Arnett could receive an
NCAA
hardship waiver that would allow him to play for Michigan State in 2012 without sitting out the standard transfer penalty season. Per CBSSports.com RapidReporter
Dana Gauruder,
the loss of the Spartans' top three receivers from their 2011 squad -- not to mention the talent that made Arnett a highly sought-after four-star prospect --
could make Arnett an immediate starter
for MSU should he be granted the waiver.
After publicly expressing his frustration with Dooley's initial decision, Arnett also
made sure to express his gratitude for Dooley's change of heart
after the pair's one-on-one meeting:
"I am sure that my request to leave UT was not the best or most expected news to Coach Dooley," Arnett wrote. "However, he took the time to hear me and understand that I must keep family first at all times. For this reason his decision to release me unconditionally comes as a sign of a compassionate and empathetic coach. I will never be able to express fully my appreciations and gratitude for his decision.
"I want to ensure that all recruits, current players and fans know that the University of Tennessee is headed in the right direction. All good things take time and work. UT has always surpassed the rest and I believe in due time they will be back to the number one program in the SEC."
The cynic in us wonders if publicly declaring to "all recruits" that the wobbly-looking Vols are "headed in the right direction" was a condition for Arnett's release to MSU, but in the end, it doesn't matter. Arnett will be able to attend his school of choice while being closer to his father. Dooley has done the right thing and has earned his commendations. However the pair arrived at this conclusion, everybody involved -- the Spartans most definitely included -- has come out a winner.
HT: GTP.
Keep up with the latest college football news from around the country. From the regular season all the way through the bowl games, CBSSports.com has you covered with this daily newsletter. View a preview. Like us? Tell our Facebook page.