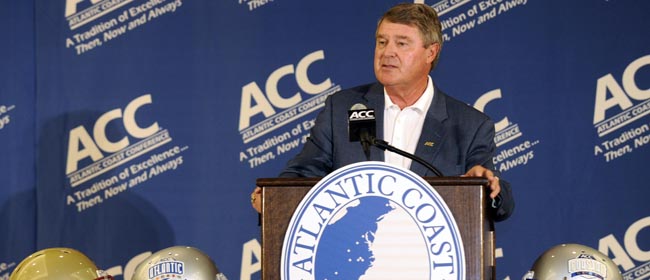 Posted by Chip Patterson
1. When it comes to expansion, ACC moves swiftly and silently.
While
Mike Slive
and
Larry Scott
continue to make headlines with their cryptic quotes about realignment and expansion, ACC commissioner
John Swofford
once again made the moves necessary to protect the future of the conference. Before Legends, before Leaders, and before the Pac-12 matched their name with their membership; the ACC added Miami, Virginia Tech, and Boston College from the Big East in order to hold a conference championship game. I knew that September 17 would be a big day for the ACC, but I did not know it would be a day that defined the future of the conference.
Before Big East commissioner
John Marinatto
could say "clambake," Pittsburgh and Syracuse reportedly submitted formal applications to the ACC for membership.
CBSSports.com's Brett McMurphy broke the story Saturday morning
, and Gary Parrish is reporting the ACC presidents could vote on the expansion
as soon as Sunday. "It's done," a source said to Parrish
.
The addition of the two schools paired with last week's decision to raise the conference's exit fee to $20 million protects the future of the ACC. If we are indeed headed towards superconferences, Swofford has prepared his league to be one of them. By the time the story broke, the deal was reportedly already done, and there was no need for cryptic quotes or loaded statements. While Texas A&M's move was the first domino to fall, Saturday's developments may have expedited more major moves. Buckle up folks, the shift is happening now.
UPDATE:
At 11:37 p.m. (ET), the ACC announced a media teleconference for Sunday morning at 9:30 a.m.. CBSSports.com's Brett McMurphy is reporting that the university presidents will meet prior to the teleconference. Stay tuned to CBSSports.com for more details of the conference's announcement, whatever it may be.
2. Florida State displays resilience in loss, but now what?
The Seminoles fought with every ounce they could pull together from their beaten and battered roster in a losing effort to the top-ranked Sooners. The options were laid out plainly before the game: win and become a national title contender, lose and fall from the national title discussion entirely. Granted there are plenty of scenarios that could feature the Seminoles in the national title game as a 1-loss or even 2-loss team, but I wouldn't put any money on those outcomes.
The challenge for Jimbo Fisher's team is avoid a hangover from this frustrating loss. Florida State can still set their sights on the ACC Championship and a BCS bowl victory. The Seminoles haven't won an ACC title since 2005 and haven't won a BCS bowl game since defeating Michael Vick and Virginia Tech in the Sugar Bowl to win the National Championship for the 1999 season. There is plenty of room for growth, and the loss does not mean that the Seminoles "aren't back." The atmosphere in Doak Campbell Stadium was electric on Saturday night, and hopefully a sign of things to come in Tallahassee rather than a one-time occasion.
3. Miami got Jacory Harris back, but the difference was on defense.
Jacory Harris may have matured, and changed in many ways off the field. But against Ohio State, Jacory Harris still looked very much like the Jacory we know and love. Great footwork, incredible athleticism, and wildly inconsistent in his reads and decision making. Harris finished the game with 123 yards passing, two touchdowns, and a pair of interceptions to match. The Hurricanes got their boost from their defense, which swarmed all over the field with high energy and held the Buckeyes to just 209 yards of total offense. Senior linebacker Sean Spence led the way in his first game back from suspension as the team's leading tackler while Adwele Ojomo and Marcus Forston provided depth on the defensive line that was lacking in Miami's season opening loss to Maryland.
4. Georgia Tech's offense is for real. Record-setting real.
Georgia Tech's frustrating 2010 season included a 28-25 loss to Kansas. If the Yellow Jackets were out for revenge on Saturday, they certainly showed it in their 42-point second half output against the Jayhawks. When the final buzzer sounded 12 different Georgia Tech players had combined for 604 yards rushing in the 66-24 win. The total set a new school record, and the 12.1 yards per carry as a team set a new NCAA record. (
NOTE
: the official game notes list it as a record, but CBSSports.com's
Adam Jacobi points out that Northern Illinois recorded 15.5 last November
. Regardless, impressive performance by the Jackets). Georgia Tech's offense has been steamrolling their opponents, using a stable of home-run threats to deflate their opposition with big plays. Against Kansas, the Yellow Jackets had scoring
plays
of 95, 63, 67, and 52 yards. Quarterback
Tevin Washington
has become a wizard in Paul Johnson's option offense, freezing defenders with fakes and reads while his teammates set up the perimeter blocking for the playmakers. High point totals against inferior opposition is normal for early season games, but hanging 66 on Kansas and giving the Jayhawks their first loss of the season made a statement. This offense is a force to be reckoned with.
5. Don't give Clemson WR Sammy Watkins any space.
None. At least not if you plan on keeping him from burning your defense. The true freshman wide receiver has drawn the praises of coaches, fans, and teammates since arriving on campus this fall. On Saturday he made his presence known to the nation in the Tigers' 38-24 win over Auburn in Death Valley. Watkins led all receivers with 10 catches for 155 yards and a pair of touchdowns. Both scores came on short/mid-range passes that Watkins reeled in and took to the house. Against a defense that carries the reputation of "SEC speed," Watkins looked supersonic as he left the Auburn secondary in his dust headed towards the end zone. Watkins is an early favorite for Rookie of the Year already, and likely will be giving defensive coordinators headaches for the foreseeable future.
6. Things have gone from bad to worse at Boston College.
Heading into the season, all the buzz around Boston College was about an upgraded offense that would feature Preseason Player of the Year Montel Harris rather than rely on the star running back. The defense, ranked among the best in the nation, returned arguably the game's best linebacker in
Luke Kuechly
and touted sophomore
Kevin Pierre-Louis
. Kuechly still leads the nation in tackles, but that's about all that has been going write for the Eagles. Offensive coordinator
Kevin Rogers
has taken a medical leave of absence,
Montel Harris
is struggling to get back to the field after undergoing his second arthroscopic knee surgery in a year, and leading receiver
Ifeanyi Momah
might be lost for the season with his own knee injury. But frustrations have spilled over to kicking game as well, with
Nate Freese
missing an extra point in the second quarter and a 23-yard field goal with 43 seconds remaining in a 20-19 loss to Duke in the ACC opener for both squads. What started as a season of hope for BC (and even some chatter about ACC Atlantic dark horse) has turned into an 0-3 start with Clemson, Virginia Tech, Maryland, Florida State, and Miami left on the schedule.
Keep up with the latest college football news from around the country. From the regular season all the way through the bowl games, CBSSports.com has you covered with this daily newsletter.
|
Preview