Posted by Bryan Fischer
College football's encore weekend not only lived up to expectations, but beat them.
It also caused at least few hearts to skip a beat or two around the country. It seemed like every channel you were on, there was a game coming down to the wire or ready to head to overtime. From the noon games to the night games, last Saturday was one big, drama-filled day.
Notre Dame-Michigan, USC-Utah, Cal-Colorado, Washington-Hawaii, North Carolina-Rutgers, Auburn-Mississippi State, Ohio State-Toledo, Texas-BYU, Iowa State-Iowa, Vanderbilt-UConn
and several others left everyone on the edge of their seats. There weren't a ton of great defenses among the group but that didn't hamper the fun as teams either came back or fell just short. Heck, the first night game in Ann Arbor had as much drama as any of them in just 72 seconds.
One game I was really looking forward to going into Saturday was between the Hedges and that game more than lived up to expectations and put one coach in even hotter water.
The game seemed to be
South Carolina
personified. It's why everybody's hand trembled writing them in to win the
SEC
East this year. Not only was it the Gamecocks' history but they had a quarterback who frustrated fans and Old Ball Coaches alike in
Stephen Garcia
. When he threw his first interception of the game, it was simply Garcia being Garcia. The
ESPN
director, as if he understood perfectly, cut to a shot of Garcia with his hands on his hips, staring down his mistake while clinching his lips and a coach yelling at him. Later in the game he rolled out of the pocket and threw a beautiful pass that reminded everybody of his talent. Again, just Garcia being Garcia.
This is a good and very talented Gamecocks team that can beat anybody on any given Saturday if they don't wind up beating themselves first.
"Georgia outplayed us, give them credit, they outplayed us but somehow or another we won the game,"
Steve Spurrier
said post game. "Somehow it happens like that. Somebody was looking out for us tonight."
Running back
Marcus Lattimore
broke out for 176 yards and a touchdown as the team rode him for 27 carries. USC will have to be wearing of overusing Lattimore because he's the key to their success but at least he had 10 fewer carries than he did against the Bulldogs a year ago. His ability to find just a little hole and take off is special and he certainly can run very hard between the tackles.
On the other side of the ball, how scary is the Gamecocks' defensive line? We knew it was going to be good but maybe not quite this nasty.
Melvin Ingram
was superb, taking a fake punt 68 yards for a touchdown and scooping up a fumble for a touchdown after fellow end
Jadeveon Clowney
nearly took off the head of UGA quarterback
Aaron Murray
. Only in the SEC do 275-pound defensive ends score twice in a game and run 68 yards while doing so.
The thing about Clowney, the nation's consensus number one recruit out of high school, is how he stands out on every snap just due to his size. Then, as soon as the ball is snapped, he stands out for his explosiveness and physicality - making you drop your job and say 'Wow' a couple of times a game. Heck, Murray might want to leave school early just to get away from him. Clowney still isn't up to speed mentally but it's coming and coming quickly. If you're an SEC quarterback with South Carolina on the schedule, prepare your ice bath in advance.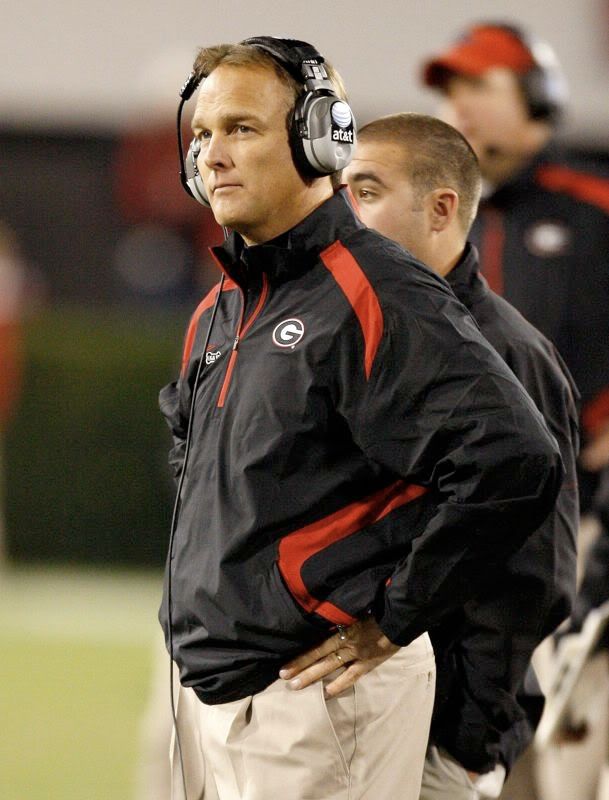 For
Mark Richt,
he might have to go bang his head against the wall a few times after every game. He's had injuries and suspensions and even
NCAA
issues thrown his way but there's still no getting around the fact that this is a good group of players who haven't lived up to expectations. Just when it seemed like Georgia was about to break through, they'd commit a big error. The good news is it looked like freshman running back
Isaiah Crowell
got going, rushing for 118 yards and a touchdown after breaking a few nice runs into the open field. But even as he took two steps forward, his fumble at midfield that
Stephon Gilmore
returned to the red zone was a step back. He's still a little behind in pass protection but the flashes he showed reminded everybody, coaches included, why he was so highly recruited out of high school.
The biggest thing that Richt can do next week is get his team to have fun against
Coastal Carolina
. There will be no avoiding hearing about his job status as the heat was turned up even higher after the loss - he
has
to get his team refocused before starting the heart of their SEC schedule. Get everybody involved, call some trick plays, something - anything - to get his team focused on having fun playing football instead of worrying about him. He can't eliminate all the distractions but he can get his team to buy back in week-by-week. The schedule is manageable enough that they could conceivably go 10-2 this year - more than enough to quiet critics for a few more months. The Bulldogs are talented but lost to two teams they should have to fall to 0-2 for the first time since 1996.
Now the trick is winning out using their own talented roster. No easy task but one that can certainly happen.
Stat of the week
If I had to take someone to Vegas with me, I just might select
Gene Chizik
. All he seems to do is give heart attack to the Auburn faithful and win last second games. The Tigers pulled off the upset this week against Mississippi State thanks to a goal line stand that kept quarterback
Chris Relf
out of the end zone by inches to preserve a 41-34 win at home.
"We'd prefer to win football games a lot different than we are, but there's something to be said when you can fight down to the end when it doesn't look good and still win the game," Chizik said after the game.
While the head coach certainly would prefer a less stressful ending to games, he might need to get used to them if his team is to keep winning. After taking nearly two hours just to play the first half against the Bulldogs, I was digging around looking for the total game time but managed to find an even more eye-popping stat.
Auburn's offense has averaged 56.5 plays during their first two games while the defense has averaged 90.5 snaps per game. Yes, the defense is almost literally on the field twice as long the offense. For a young team with issues on both sides of the ball, that's an uh-oh.
For comparison's sake,
Arkansas
has averaged 74.5 plays on offense and 57.5 on defense during their light non-conference schedule. Only two SEC teams have average more than 70 snaps on defense, and just six teams nationally have their defense on the field for more than 80 plays a game. No one even approaches 90 defensive plays a game. The national average for number of plays on defense is 67.3 and 68.8 on offense.
Up against that little issue, it's almost shocking Auburn's 2-0 but they are thanks to some late game heroics. Whether this is a serious flaw of just the byproduct of two crazy games remains to be seen but, bottom-line, Chizik needs to make some adjustments.
Other stats of note
- Michigan's
Denard Robinson
thrilled the country against Notre Dame and became the first UM quarterback to beat the Irish twice since
Jim Harbaugh
did so back in the late 1980's. He also has accounted for an astounding 96% of the offense the last two games between the schools.
- Texas has outscored its opponents 35-6 in the second half while USC outscored their opponent in the 4th quarter for just the fourth time in 15 games this weekend.
-
Tyler Bray's
405 yards are the most for a
Tennessee
quarterback since the legend himself,
Peyton Manning
, wore orange. Bray finished 34-of-41 and tossed four touchdowns.
Justin Hunter
and
Da'Rick Rogers
both had 10 catches for over 100 yards and the pair combined for three TD receptions.
- In the last 11 years, the Georgia-South Carolina series has only been decided by nine points or less eight times. Since 2004, the winner has had fewer than 20 points every year but 2009 and 2011.
-
Alabama
has not allowed a touchdown in the first quarter for seven straight games.
-
Boston College
linebacker
Luke Kuechly
is a tackling machine once again this year. He has a nation's-best 35 total tackles while the next closest player has 27.
Yard-by-yard
- What an impressive, almost surgical attack led by
Oklahoma State
quarterback
Brandon Weeden
. The Cowboys' offense came out and pretty much blew away the
Arizona
secondary on Thursday en route to a 37-14 win in Stillwater. Weeden connected on his 13 passes and finished up with a ho-hum 397 yards after slowing down in the second half. He's flown under the radar a little bit (even in his own state) but in 15 starts, he has only two losses by a total of 16 points. It's sometime easy to say a lot of his success is due to receiver
Justin Blackmon
but Weeden is the triggerman for what the team does. This team can also run the ball pretty well -
Joseph Randle
is 15th in the country in rushing - and should make for a fun
Big 12
regular season when they play fellow top 15 teams
Oklahoma
and
Texas A&M.
- Senior writer
Bruce Feldman
touched on
FIU
in his Sunday column
but what a win for
Mario Cristobal's
program. Their win over
Louisville
was the first win ever for the program over
BCS
team and showed that the Golden Panthers are more than just the dynamic all-purpose superstar
T.Y. Hilton
. They take on another rising in-state program in
UCF
this week and if they can pull off the upset, a run at going undefeated isn't out of the question. It will be tough to stop the Knights but FIU has the athletes and coaches to make it a game.
- Speaking of Louisville, their game against
Kentucky
might be downright unwatchable. Louisville is a mess offensively and their defense is suspect. Luckily for
Charlie Strong
, they'll face a Kentucky team that has serious issues with both lines. It's going to really be rough once the Wildcats get into SEC play this year if they continue to play as sloppy as they have been during their first two games. Fans from both schools are probably counting down the days until basketball season already.
- If there's one thing that might be different under
Luke Fickell
at Ohio State, it's the offense is involving the tight end more. Senior
Jake Stoneburner
came into the season with 22 catches for 252 yards and two touchdowns. Through two games this season he has eight catches for 93 yards and four TD's and seems to be one of quarterback
Joe Bauserman's
favorite targets. The Buckeyes haven't look completely in rhythm on offense but that's not Stoneburner's fault.
- Not sure what to make of Texas' win over BYU other than it's a baby step back to respectability.
Garrett Gilbert's
not who
Mack Brown
wanted him to be coming out of camp, looking shaky again with some bad decisions before being pulled for
David Ash
and
Case McCoy
. Using Ash in some zone read situations was a good change of pace and was a productive play with their speed at running back - a group that finally got going, including freshman Malcolm Brown. The defense still is a concern, as BYU seemed to pick apart the middle of the field. Might take awhile for everybody to get comfortable with
Manny Diaz'
system but there's some talent on the team. Baby steps.
- Two quarterbacks in the Northwest were rolling this weekend. In
Oregon
,
Darron Thomas
and the Ducks offense seemed to be back in their normal sixth-gear against
Nevada
. Thomas had just 13 attempts - after throwing for 54 against
LSU
- but six of them were for touchdowns on Saturday. Freshman
De'Anthony Thomas
had over 200 all-purpose yards and scored two touchdowns. He's a small but tough back who has speed to burn, should be fun to see what
Chip Kelly
does with him as he learns more of the playbook.
At Washington,
Keith Price
got the Huskies off to a 2-0 start by throwing for 315 yards and four touchdowns. He connected on his first eight throws and has spread the ball around to a good receiving group well. Things got a little tight against Hawaii but Price and running back
Chris Polk
kept the Huskies moving. This team may not be a top 15-caliber squad but they're certainly going to give others fits if they can stop playing down to their competition at times.
- I was a bit shocked to see that
Clemson
opened up as a favorite against Auburn this week, their own issues aside.
Dabo Swinney's
club struggled against
Wafford
and things are not going to get any easier. The offense is productive in the stat sheet but in they're still struggling to adjust to
Chad Morris'
system. The rush defense in particular is very concerning, ranking 107th in the country after two games against a
Sun Belt
and an
FCS
opponent.
- Several people in the
Alabama
program told me that the Crimson Tide defense might be the best ever under
Nick Saban
. After watching two games, I think they're close to being right. The score was a bit closer than expected against
Penn State
at 27-11 but this is a very good group. They look faster and deeper than the national championship squad a couple of years ago and are not the opposing quarterback's best friend, to say the least.
Pulling Rank
My top 10 after week 2:
1. Oklahoma
2. LSU
3. Alabama
4.
Boise State
5. Texas A&M
6.
Stanford
7.
Wisconsin
8. Florida State
9. Oklahoma State
10. South Carolina
Where we'll be this week
I'll be out at the Ineligible Bowl, Ohio State at
Miami
on Saturday. Senior writer
Brett McMurphy
is in Tallahassee for the top five showdown of Oklahoma and Florida State.
Across the goal line
There were a series of firsts in the USC-Utah game I was at this weekend. Trojans kicker
Andre Heidari
recorded the first points in
Pac-12
conference history while teammate
Marc Tyler
will be in the record books for scoring the first touchdown. Thanks to their 17-14 win over the Utes, USC won the final
Pac-10
game and the very first Pac-12 game.
More on College Football
Analysis

Dennis Dodd
Alabama's win over Penn State means AJ stands for 'starting quarterback.'. Read >>
---

Brett McMurphy
My AP ballot: Off weeks, cupcake foes mean no change at top. Read >>
---

Tony Barnhart
Bulldogs miss big chance to regain momentum in loss to Gamecocks. Read >>
Related links
Video
Wait, excuse me, thanks to their 23-14 victory.
In many ways, the first ever Pac-12 conference game - which wasn't really true because Colorado and Cal played earlier that day in an overtime "non-conference" game - featured many of the same elements of its Pac-10 predecessors. There were big plays on offense, a close game, USC on national (cable) television at night and, oh yeah, an officiating controversy.
As I walked down the steps of the
Coliseum
toward the field right before their drive, I kept thinking this was a welcome to the conference moment for Utah. Boy was it ever.
I was about 10 yards away when, on 4th down,
DeVonte Christopher
caught an in-route that seemed to fall just short of the first down marker. It seemed like a bad spot but the refs said it was a turnover on downs. Then they reviewed it, remarked the spot and gave Utah a first down. Saved by Pac-10… er, -12 replay officials.
Then there was the pass interference call on the next play. That set up the Utes' field goal attempt. I couldn't quite see the holder but was looking at the middle of the line in case the kick was blocked. Next thing I know the ball is bouncing right into the hands of USC corner
Torin Harris
and he's off to the end zone. The crowd and sidelines were going crazy as he raced to the end zone. I turned to talk to a colleague and saw a few players run out to get a better angle on the return. Seconds later I saw the flag, then the announcement that the game was over. The touchdown didn't count, but the game was over.
What just happened I wondered. Duty, however, called as I tried to grab a few players to talk about the win (or, in the case of the Utes, loss). I kept thinking how close Utah had gotten and, in their first conference game, they had played like they belonged despite coming up short in the win column. They came into a storied venue and almost knocked off the conference's most storied program. Utah is a good team that was well coached but wasn't quite good enough on a beautiful Saturday night in Los Angeles.
Then there was a tweet that popped up as I got back to the press box to begin transcribing. Hold your horses, the score was in question. The Pac-12 was reviewing what happened at the end of the game. As
Michael Lev
of the
O.C. Register
noted down on the field, the touchdown had huge implications for bettors across the country with USC favored by 8-8.5 points.
That's when the story changed from Utah being not quite good enough to, apparently, the Pac-12 officials "miss-communicating" and they were actually nine points from being good enough.
It was an unusual ending that I'm still trying to get my head around because the score itself changed after the fact - regardless what the conference says. The Caesars, MGM and Wynn sports books apparently stayed with the 17-14 result. The Hilton, Cantor, South Point sports books switched to 23-14. Some honored both. If you threw away a winning ticket, that is a bad beat that will be with you for a long time.
A finish that was wild, unbelievable and involved money. In a roundabout way, the first ever Pac-12 game got me very prepared for the Ineligible Bowl next week.
I knew you were good
Larry Scott
, didn't know you were
this
good.