Posted by Tom Fornelli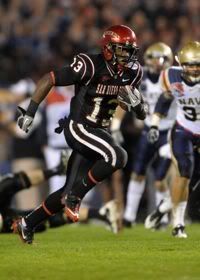 San Diego State proved to be too much for Navy in a 35-14 victory.
San Diego State
Offense:
Aside from the third quarter, the only quarter in which the Aztecs failed to score, there really wasn't much to complain about on offense. The Aztecs used a balanced attack against an overwhelmed Navy defense, and the trio of
Ryan Lindley
,
Ronnie Hillman
and
Vincent Brown
proved to be way too much for Navy to handle. Brown had 7 catches for 143 yards and a touchdown in the first quarter. He'd finish the night with 8 catches and 165 yards, though he could have had over 200 yards and another touchdown had he not let a pass slip through his hands in the fourth quarter. Lindley completed 18 of his 23 passes for 276 yards and two touchdowns, and also displayed an excellent ball fake on play-action passes. Some of the best I've ever seen, to be honest. Still, the star of the show was Hillman, who rushed for 228 yards and 3 scores, and even caught a touchdown pass that helped put the game away. All in all it was a very impressive performance.
Grade: A
Defense:
I had some concerns about how the SDSU defense would hold up against Navy's option attack, but like the offense, the defense was also impressive. They showed strong discipline all night in stopping Navy, and though they allowed two touchdowns in the second quarter, did not allow a single point in the other three. Yes, the Aztecs gave up some deep passes, but holding a Navy offense that averaged 31 points a game this season to only 14 points is a remarkable feat.
Grade: A
Coaching:
Brady Hoke
and his staff came into this game knowing where Navy's weaknesses were and attacked them out of the gate. Navy simply could not stop Lindley and Brown in the first quarter and became so determined to keep that passing game in check that the Aztecs had no problem opening up big holes for Hillman up front. It was also obvious that the coaching staff spent a lot of time preparing the defense for Navy's option attack, and while they didn't have a perfect game on defense, the Aztecs played better than expected.
Grade: A
Navy
Offense:
While you can't really tell by looking at the final score, Navy didn't play all that bad on offense.
Ricky Dobbs
rushed for over 100 yards and a score, and threw for 147 more and another touchdown. The sole Navy turnover came late in the fourth quarter when the game was out of reach. The problem was that Navy's offense couldn't sustain its offense long enough on drives, and stalled a few times at midfield and in the red zone. In fact, Navy's chances of winning basically died when, trailing 21-14 on its first drive after halftime, the Middies failed to convert on a fourth and goal. it was probably the best drive of the game that Navy had, and it couldn't muster any points out of it. You don't win a lot of games when that happens.
Grade: C+
Defense:
Here is where the problems really came for Navy. As good as this team has been this season, the fact is that talent wise, the Midshipmen just couldn't match up with the Aztecs on defense. Without a secondary strong enough to line up and play man-to-man on a regular basis, the Aztecs picked apart the zone defenses. Up front the Aztec offensive line just proved too much for Navy's front four, as the defensive line never pressured Lindley much and were gashed by Hillman.
Grade: D-
Coaching:
It's pretty hard to blame
Ken Niamutulolo
and his coaching staff for anything that happened in this game. it's not as if Navy played an undisciplined game or had a bad game plan. The fact of the matter was San Diego State had a better plan and executed it to near perfection on the night. Some nights you just get beat no matter what you do, and this was one of those nights.
Grade: B-
Final Grade:
Going into this game I was expecting a bit of a shootout. I wasn't sure that the Navy defense would be able to stop the Aztecs, and I questioned whether or not SDSU could stop Navy's option. As we've gone over, San Diego State did stop Navy. Still, even though the final margin was 21 points, this game wasn't that big of a blowout. That being said, there wasn't a whole lot of drama in the fourth quarter either, so it's hard to give this game much higher than an average score.
Final Grade: C+