Posted by Jerry Hinnen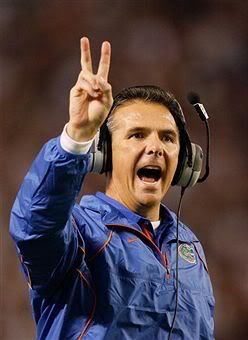 Cracks abounded yesterday when Twitter collectively heard that
Urban Meyer
had described the agony of watching former Gator
Cam Newton
go apenuts for
Auburn
by saying "It's really hard." (No, the
CBS College Football Blog
was
not above joining in
.) Which, all gym-class joking aside, it has to be at this stage; Meyer and his offensive staff have been totally unable to either adapt
John Brantley
to the existing Gator offense or adapt the offense to Brantley, a problem that Newton would have rendered utterly irrelevant if he'd remained in Gainesville.
But even so, was that actually what Meyer meant when he said it? Someone get us an
ALCOA
sponsorship, because
here's the transcript
, and now
You Make the Call
:
Reporter: Do you allow yourself to watch Cam Newton on Saturday? Did you watch him?
Meyer: It's really hard, I'll tell you that. I don't watch much of it.
Reporter: It's really hard to watch it?
Meyer: Yea.
Reporter: Because…
Meyer: I just think he's a very good player, and I'm trying to watch more of the teams we play, so I spend my time watching the other ones we're going to play.
Reporter: So like every Florida fan in the country, you think, 'What if he was here?' You let yourself...
Meyer: No, no, no, no. I didn't say that.
Reporter: Does that ever cross your mind?
Meyer: No.
Reporter: Liar. (Laughter ensues)
On the one hand, Meyer's defense makes logical sense. If you're one of America's most richly-paid coaches and your team is riding the first three-game losing streak of your current tenure, with your biggest rivalry game of the season coming up against one of the
SEC
's hottest teams, you probably don't have a whole lot of time to kick back with a cold one on Saturday afternoon and watch one team you won't play take on one you've already played.
Then again: the highlights of Newton's
masterpiece performance against LSU were near-inescapable Saturday for even the most causal of football fans, and suffice it to say Meyer is not a casual football fan. Meyer is certainly aware of them, aware of what Newton is doing at Auburn, and aware that -- according to the Miami Herald 's Mike McCall -- he made a sizable mistake in evaluating Newton's potential:

Newton left because Tim Tebow decided to come back for his senior year and John Brantley was waiting in the wings.

That's where UF's staff really messed up--they just missed on the kind of talent they had in their hands. The decision was effectively made when Brantley and Newton were freshmen and Brantley got redshirted, meaning he'd be around longer after Tebow's departure. There was also some talk of putting Newton at tight end, though we'll never really know how serious it was.
The verdict here? When Meyer adds "I'll tell you that" to the difficulty of watching Newton, he's not talking about carving out the time for it. He's talking about watching a player he recruited, groomed, and eventually let walk away win a Heisman Trophy -- probably -- for someone else while the quarterback he promoted instead flails. Meyer is only human. You can bet it's hard.
HT: Team Speed Kills .