Posted by Bryan Fischer
A longtime Floridian told me Friday he couldn't remember the last time the state was the center of college football like it was this past weekend. Sure there have been big games and plenty of teams in championship contention, but it's hard to think of a time when each corner of the state had a big primetime match up. Equally surprising, he said, was that traditional rivalry
Florida-Tennessee
was only the third most interesting game on the docket.
The spotlight was indeed on the Sunshine State and things couldn't have gone better for the most part. At the northern end, number one
Oklahoma
rolled into Tallahassee to play
Florida State
and there were moments when you genuinely stopped and said, "FSU's back." A loss is a loss but the way the Noles played
was
encouraging.
The storyline coming out the game seems to be all about Big Game
Bob Stoops
' team getting their first non-conference road victory over a top-five team in over three decades. The Sooners were gritty, responding to scores like a top-ranked and championship team should. Quarterback
Landry Jones
had several clutch throws and it seemed like linebacker
Tom Wort
was making every other play on defense. Oklahoma looked the part and survived with a victory.
The key word being survived. Yes their road woes are well documented but the reason the game was close - closer than most thought - was that Florida State looked the part of a top five team as well. For three quarters at least, it was a knockdown, drag out fight between two high profile head coaches. After FSU freshman
Rashad Greene
caught a beautiful 56 yard touchdown pass to tie the game,
Doak Campbell
was rocking. As more than one writer said on Twitter, it was partying like it was 1999.
One wonders what might have been had quarterback
E.J. Manuel
not gotten hurt. Could he have pulled off the upset? Who knows? But the biggest take away was the defense held an explosive, veteran-laden OU offense to just 23 points and showed they are close to having the athletes at every position like they used too when things were rolling. They were kids last year in Norman and it took less than a year for them to grow up into men. The offense still needs some work - especially along the line - but the defense should help carry the Seminoles through
ACC
play.
Jimbo Fisher
has Florida State making waves on the recruiting trail and there are plenty of signs that the on the field product is coming along as well. The next step is
winning
games like the one on Saturday but, by all indications, that's coming. Party like it's 1999 indeed.
A couple hours down the road in Gainesville, two teams showed they still need work if they're to take the next step. It looked like Florida was going to run away with the game up 30-7 late in the third but the defense seemed to take the foot off the accelerator. For the most part though, the defensive line was active and did a great job of shutting down the Vols' running game. Completely. Florida's defense held Tennessee to just -9 yards on the ground, the third best mark in the country so far. The offense took a hit once receiver Justin Hunter went down but it was the young offensive line that just couldn't handle the pressure Florida was generating.
All-purpose threat
Chris Rainey
was everywhere Saturday for the Gators' offense. He had 233 all-purpose yards and recorded his fifth career blocked punt. The Gators are still adjusting to
Charlie Weis'
offense and
Will Muschamp's
defense but Rainey is a constant playmaker that the team will have to lean on as they get into the thick of the
SEC
schedule. Is this team in the same class as
Alabama
or
LSU
? Not even close. But there's enough there on both sides of the ball to put up a fight with
Georgia
and
South Carolina
for the East title.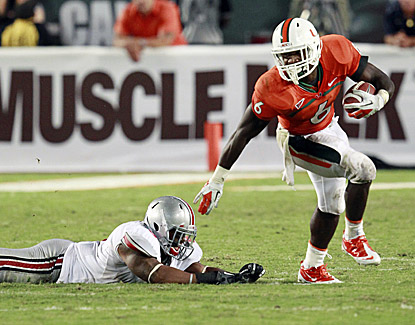 Further South, some observers would have had no issue with vacating the Ineligibowl. It just wasn't a pretty game.
Ohio State
was a step slow all night and
Miami
struggled on offense outside of their scoring drives to open and close the game. Both teams got back several players from
NCAA
suspension and Miami's certainly made the difference in the game:
Jacory Harris
was efficient outside of two boneheaded interceptions and linebacker
Sean Spence
truly transformed the defense into a much stouter unit that was able to apply pressure on nearly every snap.
Sophomore running back
Lamar Miller
set the tone early with a big run on the first play of the game en his way to a career night that made him the fourth leading rusher in the country at 151.5 yards per game. There's plenty of talent on this team to get nine or so wins but there's still moments when the Hurricanes revert to last year's form and make a boneheaded mistake. It will be curious to see how they use this game as a momentum builder going forward. At full strength and with some confidence, the Hurricanes have a little bit of swagger back.
On the other side, Ohio State is lacking an identity and has to figure out their quarterback position and do so soon. The Buckeyes have no clue about what kind of team they want to be and there could be some doubt amongst the players about head coach
Luke Fickell
if post game comments are to be believed.
"I felt like me and
Jordan
(
Hall
) were doing a great job in the run game, so I felt we should have just come out and ran at them," tailback
Carlos Hyde
told the
Cleveland Plain Dealer
. "We should have manned up and ran straight at them, see if they could stop us."
Also, don't overlook the other game in Miami on Saturday:
FIU
following up it's big win over
Louisville
with a solid victory over in-state foe
UCF
to start 3-0 on the season. Many had pegged the Knights as a possible
BCS
buster at the beginning of the season so for FIU to knock them off does wonders for a program that was the definition of a rebuilding job just a few years ago. Yes it's a
Sun Belt
team but with the schedule like it is, don't be surprised if FIU keeps things rolling. The defense recorded six sacks against UCF and did a great job the week before against the Cardinals. Plus they did everything without all-everything star
T.Y. Hilton
, who missed most of the game with a hamstring injury. Take note, the program in the state with the most upside is the one that's not in a BCS conference.
The state of Florida won't be the center of the college football universe like it was this past weekend for some time. But while it was, it delivered.
Stat of the week
Auburn's
win streak was snapped at 17 games by
Clemson
on Saturday, which was the longest in the nation. It was the 10th longest streak in the past decade and amazingly, 10 of the 17 games were decided by eight points or less.
Stanford
now has the longest win streak in the country with 11, just two seasons removed from a losing record and five seasons away from the school's 1-11 mark.
Biggest reason why the Tigers' streak ended? They're 117th in total defense, 100th in pass defense, 116th in rush defense, 107th in scoring defense and dead last in the country in third down stops. Yikes.
Other stats of note
- Texas Tech quarterback
Seth Doege
broke the NCAA record for highest completion percentage for 40 or more completions in a game. He completed 40 of 44 against
New Mexico
for a healthy 90.1 percent clip. He also hit 15 passes in a row at one point, tying a school record on his way to a 401 yard and five touchdown day.
-
Kellen Moore's
457 yards of offense against
Toledo
was third most in the country this year and he averaged nearly 10.39 yards a play. His completion percentage on the season is at a remarkable 78.9 percent.
- With the loss to LSU on Thursday,
Dan Mullen
fell to 2-10 versus the SEC West as head coach at
Mississippi State
. Both wins are over rival
Ole Miss
. While the Bulldogs have been much more competitive under Mullen, they still haven't quite gotten over the hump just yet. He was 8-6 against the West while an assistant at Florida.
- There are beat downs and there's what
Missouri
did against
Western Illinois
. The Tigers defense allowed just one first down and 44 total yards on the day while the offense rolled up 744 total yards to set a school record that had been set just after World War II. Tailback
Henry Josey
ran for 263 yards and three touchdowns, the most in a game this season. The mark was also good enough to move him into sixth place on the national rushing list.
- Of the five players to top 200 yards rushing in a game so far this year, three did so on Saturday (Josey,
Marcus Lattimore
and
LaMichael James
).
-
Georgia Tech's
game against
Kansas
was pretty amazing to take a look at after the fact. The game delivered the longest run from scrimmage of the season (
Orwin Smith
went 95 yards for a touchdown), featured two 100 yard rushers and had five players with over 70 yards on the ground. The Yellow Jackets also piled up a school-record 768 total yards, 604 of them via the running game. The 12.1 yards per rush also set an NCAA record for highest in a game.
-
Boston College
linebacker
Luke Kuechly
has games with 18, 17 and 23 tackles to lead the nation in that category. His 58 total tackles are 19 more than the next player.
-
Jeff Fuller
became
Texas A&M's
all-time receptions leader against
Idaho
while
Cyrus Gray
topped the 100 yard mark rushing for the ninth time in a row.
- Via senior writer
Bruce Feldman
,
Baylor's Robert Griffin III
has eight touchdowns and just eight incompletions.
Yard-by-yard
- Impressive, impressive comeback by
Iowa
from down 24-3 in the 3rd quarter to
Pitt
.
James Vanderberg
has been a little underrated early in the season in the face of replacing a longtime starter and doing so with plenty of fresh faces around him. The junior quarterback is 31st in the country in passing efficiency and 25th in total offense after Saturday's game in which he had several impressive throws in the second half in route to a 399 yard and three touchdown day. The lack of a running game has to be concerning if you're
Kirk Ferentz,
especially as the begin
Big Ten
play in two weeks with a trip to
Penn State
. A heck of a comeback but it's apparent there's plenty of flaws in the Hawkeyes.
- Why hello there
Sammy Watkins
. While it has taken some time for the Clemson offense to adjust to
Chad Morris'
new system, Watkins has been an explosive playmaker for the Tigers they really haven't had since
C.J. Spiller
left for the
NFL
. Yes it was against a porous Auburn defense, but this week was Watkins' coming out party to the nation with 10 catches for 155 yards and two touchdowns. He shows an explosiveness you just can't teach whenever he gets the ball in his hands and was the spark that allowed Clemson to turn things around. A former five-star recruit, he was ranked behind fellow Tiger frosh
Charone Peake
coming out of high school by
Maxpreps
which should give you some indication what kind of young nucleus
Dabo Swinney
has assembled when you add in running back
Mike Bellamy
and quarterback
Tajh Boyd
. Speaking of Swinney, he channeled his inner-Howard Dean in his
post game remarks on television
.
-
Al Golden
didn't leave the cupboard bare at
Temple
as the Owls almost beat Penn State for the first time since
Joe Paterno
started coaching in Happy Valley. Despite giving up the lead late,
Steve Addazio's
club showed they can play with bigger and stronger team and should have no problem contending for a
MAC
championship this year.
- Kudos to
James Franklin
and what he's been able to do with
Vanderbilt
. After a close, 4th quarter win against defending
Big East
champ
UConn
, the Commodores embarrassed Ole Miss on Saturday 30-7. Franklin has really gotten the team and the rest of the community to buy into what he's building there and it's starting to pay off with the team's 3-0 start. Quarterback
Larry Smith
isn't sharp enough in the passing game yet but the offense is moving the chains on the ground and playing good defense - they're currently 10th in the country in total D. Things will get much tougher as they head on the road to face South Carolina and Alabama but with home games against
Army
and
Kentucky
and a date with
Wake Forest
, bowl eligibility is possible in Franklin's first year.
- It looked like
West Virginia
finally started to get their rushing attack going against
Maryland
this weekend.
Geno Smith
is putting up great numbers from the quarterback position but head coach
Dana Holgorsen
knows that if the team wants to win the Big East - or beat LSU this week - they're going to have to be able to run the ball. Whether the answer at tailback is
Vernard Roberts
or
Andrew Buie
still remains to be seen but it can't just be all Smith, all the time.
Tavon Austin
is a dynamic threat who adds a few wrinkles but there still needs to be a consistent rushing attack so the defense can't play nickel the entire game. The Mountaineers did have an impressive three players top the 100 yard receiving mark last Saturday though.
- It was not pretty at the
Rose Bowl
as critics briefly turned their attention from overrating
Texas
to remarking on how hot
UCLA
head coach
Rick Neuheisel's
seat is. He's an alum who probably cares more about the program winning than anyone there yet there's been hardly any progress to show for it. The defense was supposed to be much better this year and strength of the team but it was anything but in the blowout loss to the Longhorns.
Case McCoy
(with a little
David Ash
mixed in) appears to be the answer for UT at quarterback and freshman tailback
Malcolm Brown
showed flashes on his way to a 110 yard day.
- I am not a believer in
Nebraska's
defense after playing
Washington
last week but they'll still do just enough to make it to the title game in their first year in the Big Ten. Still, the effort against the Huskies had a lot to be desired of a top 10 team.
- After returning from
Sun Life Stadium
late in the Miami night, I was surprised to find out there was not one, but two football games on and I managed to stay up for
Oklahoma State-Tulsa
late, late, late into the night. I couldn't believe they kicked off after midnight local time, much less that
Brandon Weeden
was still throwing to
Justin Blackmon
late in the fourth quarter - and well past 3 AM Central - with the game well in hand.
Mike Gundy
is not only a man, he's all in on this Cowboys team it appears. All or nothing, this is the most talented squad since
Barry Sanders
was in Stillwater and everybody is onboard. Why Gundy still had his stars on the field that late in the game for a blowout continues to baffle me however.
- I thought
Navy's
offense in the middle of the season always spelled trouble for teams that weren't ready for it - especially those coming off an emotional victory like South Carolina. The Midshipmen had a chance late but ultimately the Gamecocks ended up winning 24-21 thanks to a last minute interception. As one head coach told me, you schedule option offenses early or play them in a bowl game or else you'll end up upset. South Carolina wasn't upset but they nearly were with the way they played.
- I couldn't believe the score when I first saw it but here it was,
Utah
54,
BYU
10. A week ago in the Coliseum, I saw the dejected faces on the Utes sideline as their rally came up short against
USC
. I thought it would be another tough battle in the Holy War but the Utes smacked everybody around Saturday. Don't count out Utah as representing the
Pac-12
South with USC ineligible for the title game and
Arizona State
still Arizona State.
- Kudos also go out to
Wyoming
, who blocked
Bowling Green's
extra point to win 28-27. The thrill of victory, the agony of defeat…
Quote of the weekCraig James
during LSU-Mississippi State: "You play four quarters in the SEC."
Tweet of the week
Myself
following the second
ESPN
account to feature the word Genocide in place of West Virginia quarterback Geno Smith. Not a bad nickname if he keeps putting up passing numbers in Dana Holgorsen's offense however.
"Company-wide memo about Geno & autocorrect on Monday. RT @McShay13: WVU QB Genocide Smith off to a fast start."
More on College Football
Analysis

Dennis Dodd
Know an honorbale man running college sports? Give him a minute. Read >>
---

Brett McMurphy
My AP ballot: Top five fixed, but four out, four in down below. Read >>
---

Gregg Doyel
Boise is something obvious, depending on your point of view. Read >>
Related links
Video
Fisch's Finest
My top 10 after week 2:
1. Oklahoma
2. LSU
3. Alabama
4.
Boise State
5. Stanford
6.
Wisconsin
7. Texas A&M
8. Oklahoma State
9. Florida State
10.
Oregon
Where we'll be this week
Tony Barnhart
will be at the big
Arkansas
-Alabama game,
Dennis Dodd
will be in College Station for the top 10 matchup between Oklahoma State and Texas A&M.
Brett McMurphy
gets another great game this weekend, showing up at LSU-West Virginia Saturday night.
Leaning this way
Arkansas-Alabama: The secondary for Alabama will be flying around and turnovers will doom an explosive Arkansas offense.
Oklahoma State-Texas A&M: The Aggies defense is underrated but this game will still be a shootout. The home crowd will give them the edge in a close one.
LSU vs. West Virginia: LSU's defense is just too much late in the game for Dana Holgorsen's offense to break through.
Across the goal line
I was going to write about conference expansion in this space but figured things would change by the time I finished writing the final paragraph.