Posted by Chip Patterson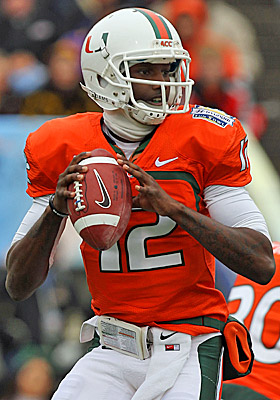 Miami
head coach
Al Golden
has named senior
Jacory Harris
the starting quarterback for the Hurricanes' next game against
Ohio State
on Sept. 17.
Harris missed the Hurricanes' opener against
Maryland
while serving a one game suspension for accepted approximately $140 in impermissible benefits from former booster
Nevin Shapiro
. Sophomore
Stephen Morris
was named the starter, and completed 19 of 28 passes for 195 with no touchdowns and two interceptions. Following the game, Golden announced that he would re-open the ongoing competition between Morris and Harris for the starting job, one that had lasted since spring practice.
Near the end of fall camp, Golden (along with many UM players) said that the two signal-callers were in a "dead heat." Both quarterbacks received praise for their performance, and their combined scrimmage numbers (individual stats not released by the school) were impressive. But due to the NCAA suspensions, Golden never got a chance to name a starting quarterback from the competition. With Harris in the number one spot on the latest Miami depth chart, it would seem as though the senior would have been the starter against Maryland if he wasn't serving that suspension.
But Harris isn't the only Miami player who will be anxious to get on the field for the first time against Ohio State. Wide receiver
Travis Benjamin
will be back in his starting spot, and
Adwele Ojomo
and
Marcus Forston
should have an immediate impact on a defensive line that looked gassed by the second half against Maryland. All-conference linebacker
Sean Spence
will be back in the starting lineup, and his impact in the back seven should be felt immediately.
The best thing the Hurricanes have going for them heading into this big-time matchup against the Buckeyes is the extra time to prepare. I imagine that the leadership of these upperclassmen will play a big role in the team's focus on knocking off OSU at home in primetime.