Posted by Adam Jacobi
Speculation about the Big Ten's new divisional alignment can end soon, as the conference is set to announce the divisions tonight on its Big Ten Network at 7 p.m. ET.
Such word had filtered through various sources earlier this week, with most pointing to today as the day for the unveiling, so this news isn't a total surprise. But while the date of the announcement has been pretty well known, the specifics of the divisions remains the far more relevant--and unanswered--question.
So with rumors about the fate of the Michigan-Ohio State rivalry flying everywhere--will they join separate divisions or not? When will their rivalry game be played?--it might be worthwhile to look to the Big Ten for a clue. And my my, is there ever one attached to the Big Ten's announcement.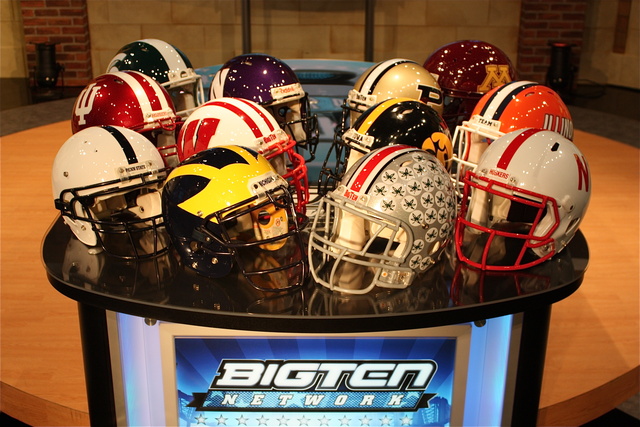 The arrangement of helmets doesn't seem to be accidental, does it? Michigan and Ohio State are front and center... and opposing each other. Likewise, the duo of Penn State and Nebraska are in opposite divisions, which fits with Jim Delany's model of competitive balance. In the second row, Iowa and Wisconsin are on opposite sides--just like what Barry Alvarez told reporters last week. And there's Michigan State on Michigan's side, which would make sense for their annual rivalry.
In total, the Big Ten divisions as indicated by this photo are as such:
Michigan
,
Penn State
,
Wisconsin
,
Indiana
,
Northwestern
,
Michigan State
Ohio State
,
Nebraska
,
Iowa
,
Illinois
,
Purdue
,
Minnesota
Of course, this could be nothing more than a red herring to throw people off the trail of the real alignment, which is still 5 hours away. But maybe--just maybe--it's a treat the conference left for its sharper fans. We'll find out soon enough.