Posted by Tom Fornelli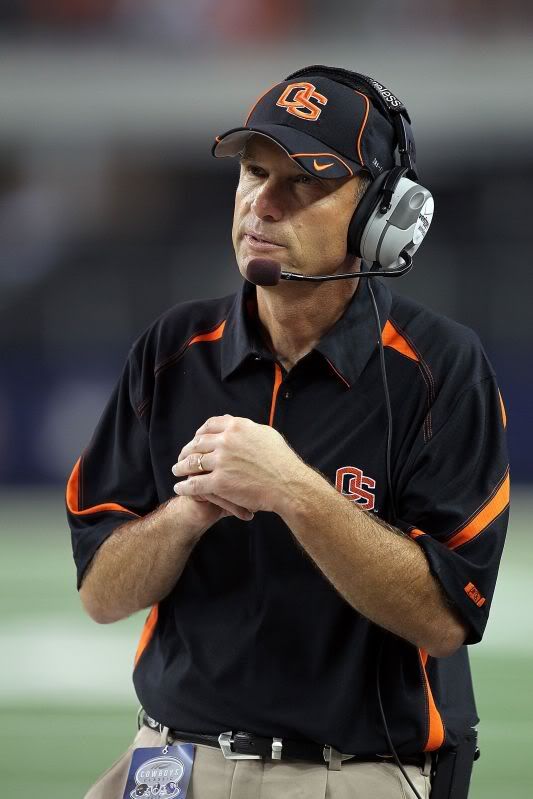 Now that
Boise State
has gotten past
Oregon State
it's entirely possible that when the regular season ends both Boise and
TCU
could be undefeated. Which, depending on how the rest of the college football landscape unfolds, could create some BCS chaos. For argument's sake, let's pretend that
Alabama,
Ohio State
and
Oregon
all finish the season with a loss and TCU and Boise are the only unbeatens left standing. Also known as The Doomsday Scenario amongst the BCS.
Would you put them in the BCS title game?
A lot of people wouldn't, preferring a one-loss Alabama or what have you, as they'd argue that Boise State and TCU didn't play the same quality of competition. Which is a valid argument -- unless you've seen a
Tennessee
or
Georgia
game this year -- that has a lot of merit, and one that I might be inclined to agree with.
Still, if either school is looking for someone to stand up and sing their praises, they won't have to look further than the head coach of the team that both of them have beaten this year:
Mike Riley.
Although Riley artfully dodged choosing between them Saturday, he did make a fairly significant statement after the news media scrum dissipated. Riley said that Boise State and T.C.U. were worthy of their top-five rankings, something that some coaches from high-profile programs have been hesitant to admit.

"I give both T.C.U. and Boise tons of credit to be where they are," Riley said. "I would not in any way begrudge their positions one bit. They're both fine programs with really good players; they're good teams, and they're well coached."
Riley even went on to say that both Boise and TCU's defenses are "about as quick and fast as we've played against ever." Considering some of the
USC
defenses Riley has faced during his years in Corvallis, that's not praise to be taken lightly.
Neither are Boise State and TCU.