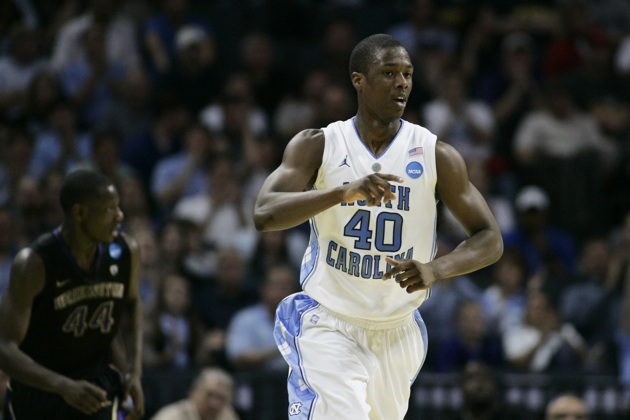 Posted by Jeff Borzello
Kentucky, it's your move.
The return of John Henson and Tyler Zeller to the frontcourt was enough to make North Carolina a legitimate Final Four contender. However, Monday morning's news that Harrison Barnes is also going back to Chapel Hill puts the Tar Heels neck-and-neck with Kentucky for the preseason No. 1 ranking.
"As an 18-year old, I'm in the early stages of my life journey," Barnes said in a release. "Opportunities, both beneficial and life changing, can seem to make the next phase of my journey an easy decision. But I am a student-athlete at the University of North Carolina. I'm here to experience college life . . . and be part of the greatest basketball family in college sports."
Barnes, a lock to be selected within the first five picks of the NBA draft, averaged 15.7 points last season, garnering second-team All-ACC honors. He averaged 21.0 points in the NCAA tournament, helping lead the Tar Heels to the Elite Eight.
Considering what Roy Williams will have at his disposal next year, a return trip to the Elite Eight would be a disappointment. This is a team fit to make a run to the Final Four and win a national championship.
Barnes will be the focal point. He blossomed over the last two months of the season, when Kendall Marshall took over the point guard position from Larry Drew. Barnes has the potential to be a first-team All-American.
Henson and Zeller down low form one of the top inside tandems in the country, with Zeller scoring consistently on the block and Henson rebounding blocking shots as well as anyone around.
Marshall will man the point again; he averaged nearly nine assists per game over his last 16 games. He will likely be flanked on the wing again by Dexter Strickland, a solid player at both ends of the floor who can also handle the ball.
The bench is stacked, as well. Reggie Bullock and Leslie McDonald are two scorers on the perimeter; both can heat up in a hurry and provide offense in a pinch. Five-star recruits P.J. Hairston and James McAdoo should make an immediate impact – Hairston with instant offense and McAdoo down low.
Kentucky might have more McDonald's All-Americans next season, but North Carolina can match them on paper – it should be fun to see which team is ultimately atop the preseason rankings.
Photo: US Presswire